I am of two minds about the Michael Kors Flap Bag.
At first, I love it. Retro-modern acrylic accents were big on the Spring 2010 runways, usually in much more expensive iterations, and Kors has managed to use it in a sophisticated and well-edited way on this bag. The oversize links, joined together by smaller metal loops, are a perfect complement to the bag's minimalist lines.
Then, on second thought, I don't love it as much. I foresee functional issues in this bag's future and it's making me nervous.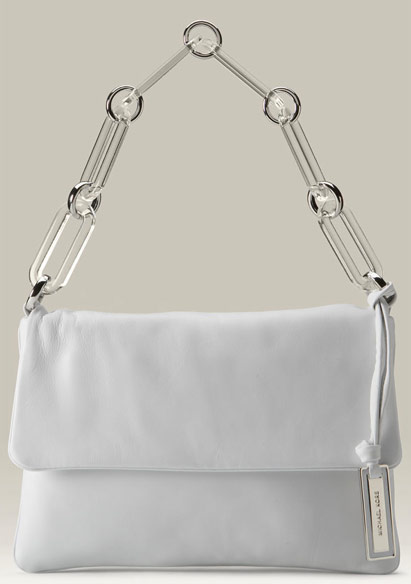 There's no way around it – chunky, rigid shoulder straps can be hard to wear. Plastic tends to slip, and hard edges tend to dig into flesh and be uncomfortable to wear after a relatively limited amount of time. This bag isn't huge, so if you only put your phone, keys and a small wallet into it, you might avoid the worst part of the discomfort, but it still probably won't be that fun to carry.
This problem could have been solved by inserting a strip of leather at the top of the strap where it would be in direct contact with the person wearing it, and I wish that Kors had gone down that road and possibly made the strap a little longer. With those tweaks, we'd be looking at a nearly perfect mod bag. Buy through Nordstrom for $495.