I spent a few hours yesterday looking at lots of new spring handbags, and if there's one thing I noticed, it's that there are a lot of elongated black messenger/hobo hybrids out there. Possibly too many – Barneys COOP was full of them, as were Intermix and the contemporary bag section at Saks.
It's a smart handbag for any girl to have in her closet right now since it sits firmly at the intersection of fashion and function, but I'm not sure if it'd be the bag I'd make if you want people to notice your neophyte handbag line. The people behind the M Missoni Long Messenger Bag probably need to take a lesson from Diane Von Furstenberg when it comes to gaining attention for an established brand that doesn't specialize in accessories.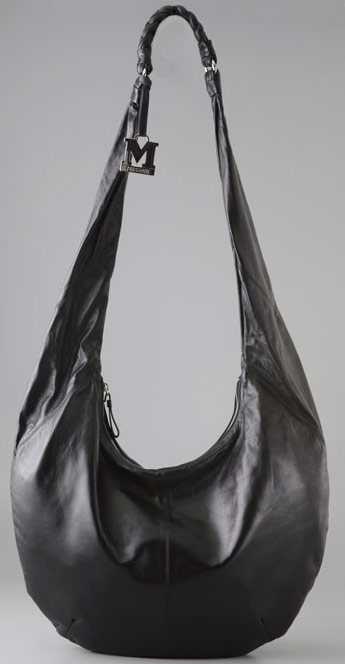 The reason I recommend that M Missoni follow DVF's lead is simple: although I don't know if bags are a new thing for M Missoni or not, this is certainly the first time that I've seen one from Missoni's diffusion line. As a result, even if they've been making accessories for a little while, they haven't been noticed by many people, and making a bag that everyone else is already making isn't the way to make an impression on bag buyers.
When DVF launched her bag line a year ago, she did it in the exact right way – she released the Diane Von Furstenberg Stephanie Bag, which featured a shape and weaving technique that was interesting, eye-catching, and talked about throughout the fashion industry. The bag sold out its initial release and more had to be made, it was seen on the shoulders of a variety of starlets, and no one ever questioned DVF's savvy as an accessories designer. If M Missoni wants to enrapture people enough to spend hundreds of dollars on their bags, then they should go with a signature look instead of the same thing that everyone else is doing. A company that has made its millions on a very particular type of knitwear should know better. Buy through ShopBop for $695.