At this point, we all know I love a good, inexpensive clutch. The uses that I have for them often involve heinous acts of bag abuse in dive bars, so it's best for me to not invest more money in one that I'm willing to lose when I leave it sitting on the back of a toilet.
My stance on this issue is rather pragmatic, and I'm betting that I'm not the only girl in her 20s that has to weigh those concerns when they pick a bag for a night out. You want to be stylish, but you don't want to put one of your most prized bags at risk. Which is where the Hobo International Triple Chain Clutch comes in.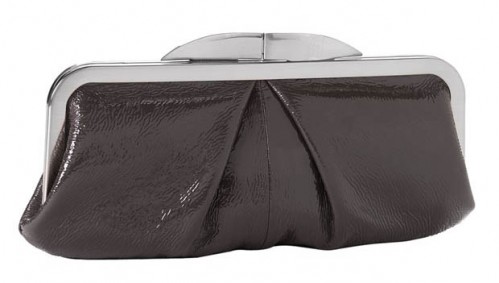 And what interests me the most in this cute little clutch is not the triple chain handle that is referenced in its moniker – I find the frame far more interesting. The shiny silver closure is curved and sleek in a retro way that I can't get enough of. In person, it feels sturdy and thick, like it wouldn't fall open and spill your stuff all over the sidewalk.
And, as always, patent is one of my favorite materials for this type of bag. Any bag that's going to be taken to cocktail parties or bars is going to come in contact with its fair share of liquid at some point, whether it be when someone spills a drink or when you sit it down on a bar or table that hasn't been wiped down. Patent is much less porous and much easier to clean than regular leather or satin, particularly when it comes to liquid. This clutch comes in several colors, but my favorite is the medium grey that you see here – it's the sort of shade that will serve you well year-round. Buy through Nordstrom for $98.