I can't wear heels, but that doesn't mean I don't love them like a fat kid loves cake. Because I do. In fact, it's much better that I can't wear them, because if I could, I'd be in a whole heap o' trouble. I, like Carrie Bradshaw before me, would probably be required to, at some point, consider living in my shoes. That's how many I would have.
But instead, I admire them from afar, and lately I've been drooling all over the Dolce Vita Studded Pump.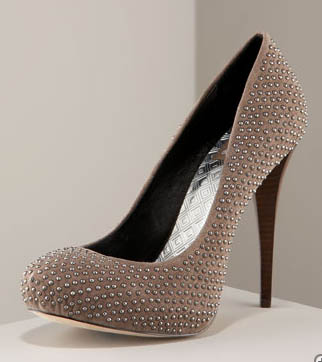 Which isn't good, because they're suede, they can't come into contact with water! So I'll try to stop my slobbering and speak coherently for a moment. And the first thought that comes to my mom is "WOW!" Not only do these have a refined shape with a hidden platform and gently tapered heel, but the design elements were incorporated with a judicious, well-edited hand.
This shoe could quickly look like something out of the movie Hellraiser, but instead we have a very young, very edgy look that could easily be worn with either skinny jeans or a cocktail dress. It also comes in a black leather version that is va-va-va-voom sexy, but the brown-grey suede is much more subdued and interesting, I think. It takes what we expect from the studded fall trends and tweaks it a bit, which is the best way to incorporate something that's already widely used in accessories and shoes. Buy through Neiman Marcus for $255.