Diane von Furstenberg has definitely made her way into the handbag world. Starting with the uber-popular Stephanie Bag DvF bags have gained international popularity. Admittedly, I was much more into DvF clothes until the Stephanie Bag graced me with its presence. I've been waiting patiently to see if the creative department at DvF would be able to churn out more handbags that would peak my interest as much as the Stephanie Bag did. Lucky for me, they have.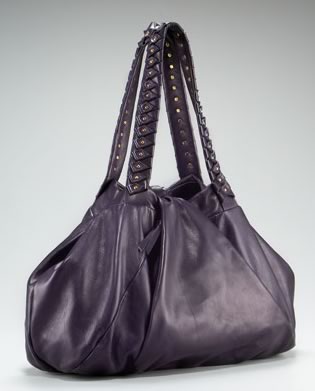 Coming across the Diane von Furstenberg Marisa Draped Wrap Hobo made me a very happy girl. I saw the black version first, which I like, but then I saw the plum colored option, which I love! First of all, the smooshy and slouchy draped purple leather is fabulous. I love that the studding was left to the handles. This was a great choice because the fabulous dark leather is enough of a statement without embellishments.
The bag is large enough to store everything you need, yet it doesn't look sloppy or too big. Plus, if you would love to have a DvF handbag but the Stephanie Bag was a little too "out there" for you, then this bag could be a great option. I am always on the look out for a great day-to-day bag and this bag would definitely be in the running. Buy through Bergdorf Goodman for $595.