There are some bags out there that I see and instantly know I must have. The Coach Kristin Leather Hobo is one of these bags. Before I go much further, you all have probably picked up on how Amanda and I want to try and cover more Coach bags. Frankly, these bags are great and there is no reason not to cover them more. This all started back with Amanda's review of the Coach Kristin Large Hobo which so many of you fell in love with. So, when I came across the larger bag in the Kristin line, I knew I had to cover it as well.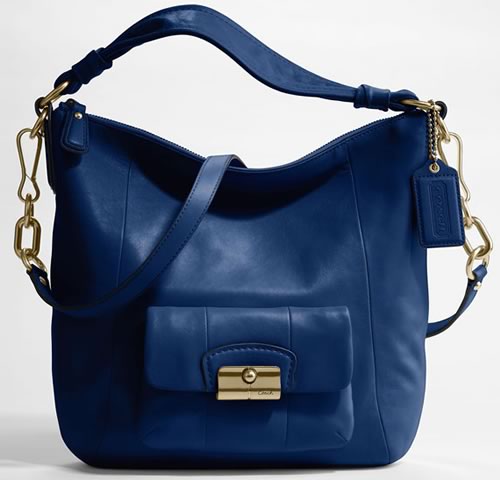 First of all, the version I first laid my eyes on was blue. The bag also comes in black, white and taupe, but I have a soft spot in my heart for blue bags. And this isn't just any kind of blue, it is a dark, but not *too* dark blue. (Great description, huh?)
Second of all, the leather, like almost all Coach leather is amazing. You can notice this in the image here and if you happen to walk into a Coach store, you better believe that when you touch the leather, it will live up to all of your wildest dreams.
Finally, it's just basically the complete package. You've got a great color, durable and supple leather as well as just the right hint of fashionable elements all rolled into one. I know I wouldn't actually use the shoulder strap (10″ drop) but I would keep it attached and let it hang off the rest of the bag for added movement. Thank goodness for options! Buy through Nordstrom for only $298.