It takes a lot for me to like a brown bag; as a dyed-in-the-wool wearer of black, I just don't find a whole lot of use for the color in my everyday life. When I cleaned out my stuffed-to-the-gills walk-in closet this weekend, I found exactly two pieces of brown apparel, and one was a leftover dress from my desperate attempts at outfit diversity while I still worked in the marketing office of a large resort.
Still, though, I love the Botkier Bowie Satchel so much that one is on its way to me as we speak. The shade of brown (camel, really) and lines of the bag are so perfect that I couldn't resist. Plus, the color is light enough that I can easily pair it with my unending racks of black clothing.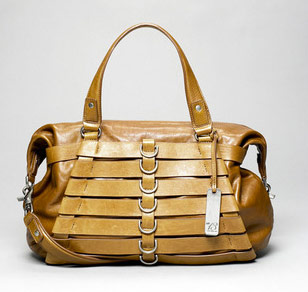 What instantly drew me to the bag, of course, were the strips of leather across the front. They're so neat and architectural, and I can say with reasonable certainty that I haven't seen a handbag with a similar design basis any time in the recent past. It's a look that's truly unique, and that's not something that's easy to come by in a crowded contemporary handbag market (just ask sometime Botkier-copiers CC Skye).
As will all the Botkier bags that I've come across, the materials used in this satchel are top notch. You get just the right amount of slouch without sacrificing durability, which is important, because you'll likely want to use this bag for a long time to come. Buy through Botkier for $595.