Embracing the Alexander Wang aesthetic is easy in winter – you add in some black, and then some more black, and maybe a little black as a finishing touch. It also has to be sort of minimalist, but in a really non-minimalist way. Ta-da! There you go. But when weather gets warmer, sometimes people want to wear a color other than black (although I don't know why anyone would want to do that, black's great!), and then channeling Wang's of-the-moment looks gets a little harder, particularly in the bag department.
Fret not, however, because the brand's fashion mavens have created the much-loved Alexander Wang Donna Hobo in a faded, mossy green that will actually work with the boho colors and fabrics of summer without losing any of the bag's signature edge. A Wang bag that you could wear with linen – mon dieu!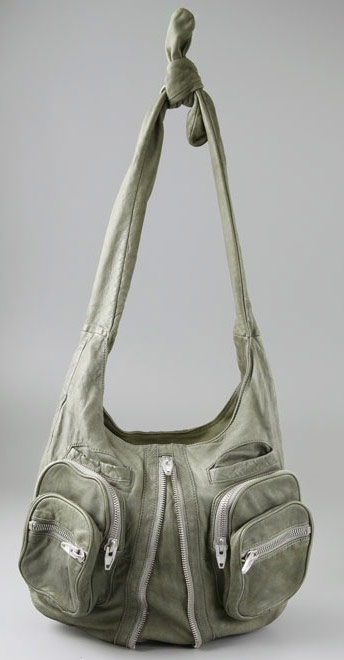 This color really lets you see the distressed, slouchy texture of the bag's leather, and that's one thing that's really easy to miss in the more famous black version. The look of this bag might be slightly more boho than downtown, but I think that's merely a testament to how versatile and stylish the elongated hobo's shape really is. Buy through ShopBop for $795.