It seems like every time I write about one of VBH's gorgeous bags, I lament the fact that they're so hard to come by online. I have a local boutique that carries a good selection of the brand's popular envelope clutches, and our readers in major fashion capitals can surely find ways to access these bags, but for most people, VBH pieces are hard to find even if you do happen to have the large (and I do mean large) chunk of change you need in order to acquire one.
But now, with a few clicks of a mouse button, you too can have bags like the VBH Brera Double Zip Satchel. Look at it this way: It's not nearly as much as a Birkin, and in my very humble opinion, VBH makes the best Birkin-alternatives out there.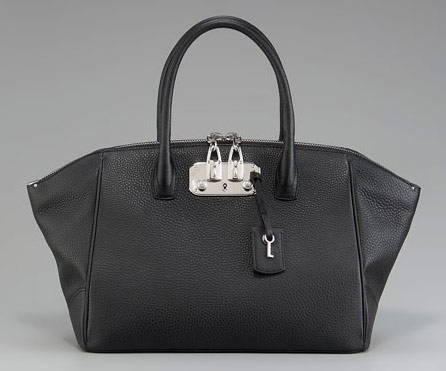 What has always impressed me about this bag in particular is the confidence of the design. Instead of lots of distracting bells and whistles, the sharp lines and interesting shape of the bag take center stage, as does the superb leather. There's nowhere for bad stitching or subpar materials to hide on a bag like this, and a designer willing to show his full hand is one who is confident that what he's offering is worth the steep asking price. VBH is on the very, very short list of brands that make bags for which I'd be willing to part with $3000. Buy through Neiman Marcus for $3250.