Despite any fun that I might have had at Versace's expense in the past, I really, really want the brand to get through its growing pains and come out the other side making beautiful accessories. Few labels have the kind of global name recognition that Versace enjoys, and it would make the accessories market as a whole much richer for Versace to find its voice and become a real player in the handbag game. If it keeps making bags like the Versace Hilary Satchel, there's hope for the brand yet.
Instead of the over-the-top, mismatched styling that we've seen from the brand in the past, this bag's design has been edited down to just the parts necessary to keep some of the Versace attitude. Most of that comes by way of the round hardware motif that dots the front of the bag, but it doesn't distract at all from the beautifully textured and glazed purple leather underneath. Instead of having multiple colors, patterns and types of hardware compete with each other, this bag's elements all work work together.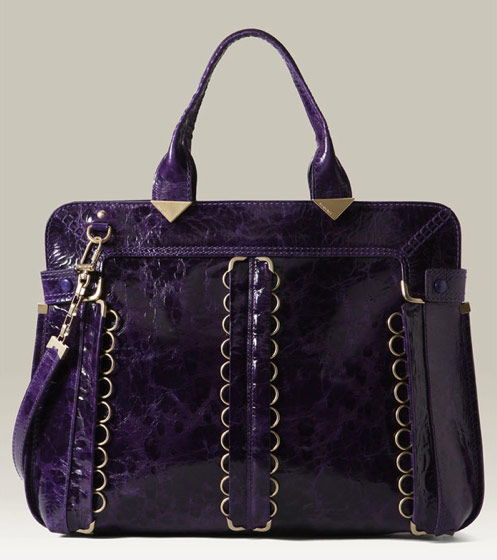 It's not often that I see a Versace bag and think, wow, I would totally be able to work that in to my wardrobe, but that's exactly the reaction I had to this bag. Medium-to-dark purple is a rich color that looks great against black and grey for winter, and it provides a bit of color to an outfit without looking season-inappropriate during colder weather. The abundance of hardware is typical of the Versace aesthetic, but in this iteration it doesn't take away from the beauty of the leather or compete with the overall design. It fits.
The bag also seems to be at least reasonably functional. I wish it was a tad deeper, but as it is the design should still offer plenty of interior room for your everyday stuff without getting too bulky or heavy. The only problem, of course, is the price. If Versace wants to spark renewed interest from skeptical bag buyers, they need to consider a significantly different price point. There's no way that this bag costs over a thousand dollars more to manufacture or market than your average Chloé bag, and most buyers know it. Buy through Nordstrom for $3250.