Sometime's a bag's charms speak loudly and clearly through photos, but other times, you have to see a design in person to appreciate its subtle ways. The Loewe Amazona Bag, without a doubt, is part of the second group. I had been a nonbeliever in this particular purse for quite a while, mostly because starlets tend to carry the bimaterial versions that I always thought looked stuffy and dated, a perception which I still hold of that particular Amazona iteration, especially when one or both of the dominant colors is some variation on brown.
But now that I've had a chance to see the leather versions of this bag in person at one of the few US retailers who stock the bags in-store (Jeffrey in Atlanta, in case anyone is looking for a place to get one), I have to say that my mind is completely changed. The simple perfection of the design reminded me of Valextra, and the quality of leather reminded me of Hermes. You'll pay a pretty penny for one of these bags, but it just might be worth it.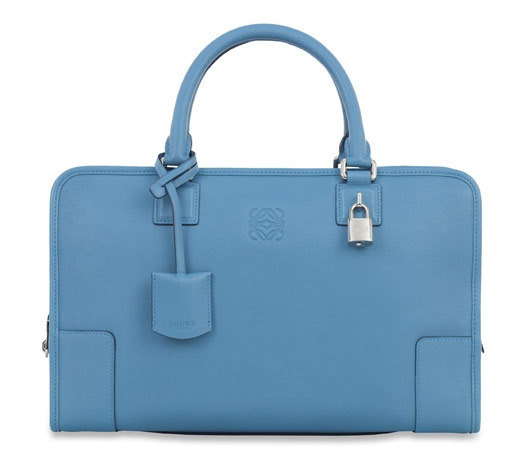 I usually hate being wrong, but when my wrongness means that another wonderful bag exists for my appreciation and obsession, it doesn't bother me nearly as much as it would otherwise. With these bags, my preference is the largest size with the smallest logo in all leather, and when I say "all leather," I mean inside as well, which is still the benchmark of an expertly crafted piece. If you're looking for an extremely well-made everyday purse but want to carry something that's not overly recognizable quite yet, the Loewe Amazona's many colors and combinations might be your best choice. Buy through Loewe for $1878.