I don't mean to be glib, but it's been a while since I can remember seeing an interesting Dolce & Gabbana bag that wasn't a Miss Sicily Satchel. That particular model has seen a lot of success for the brand, but it seems as though the various Miss Sicily satchels have cannibalized most of Dolce's bag line for the past couple of seasons. They Italian label has released other bags, of course, but I'd be hard-pressed to name any of them off the top of my head.
Finally, it looks like they've come up with another design worthy of our focused attention: the Dolce & Gabbana Miss Charlotte Satchel. I don't remember seeing this one in the past, so if it is indeed new, then I'd like to offer it a hardy welcome and express my sincere hope that it sticks around for a while.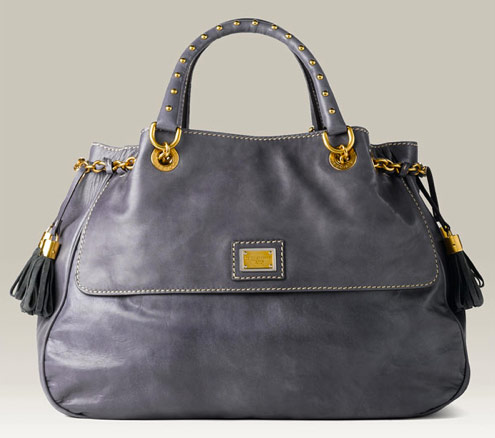 The beautiful elephant grey that the designers chose is a perfect way to launch this shape: it's a well-liked neutral that a lot of women could incorporate into their wardrobes, but it's not so boring that no one notices the color. The details of the bag are also great: gold hardware and tassels make the bag a little bit special without diminishing the design's functionality, which should be paramount for any bag of this size. Given the opportunity, I'd love to make the Miss Charlotte my new everyday bag. Buy through Nordstrom for $2225.