Hermes Bolide when they look at the Dolce & Gabbana Miss Brigette Dome Satchel? I definitely am.
Is anyone else seeing an
Which is not necessarily a bad thing, since the Bolide is an elegant bag choice in its own right. But like all things Hermes, the Bolide can be prohibitively expensive for a lot of people, and having a slightly less expensive but still well-made option in a similar shape is not necessarily a bad thing.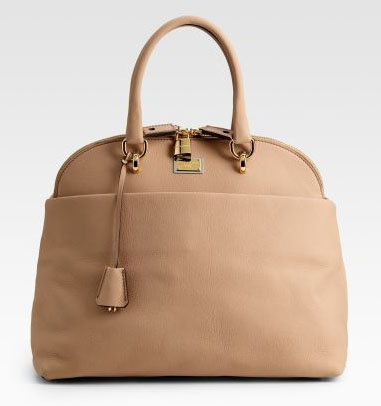 Not that Hermes officially has some sort of monopoly on making bags that are this shape, but the resemblance to their products is a lot closer than it is to, say, the Louis Vuitton Alma. Particularly when you add in the clochette and the horizontal exterior pocket, which mirrors the external seaming on the Bolide.
Normally I'm not a fan of bags that remind me so precisely of other bags, but I think I may actually like this version more than the original, the more that I look at it. The choice of the smooth, slouchy leather is spot-on for creating a bag with the everyday sort of elegance for which the Bolide strives, and turning the external seam into a pocket is totally functional. Plus it's lined in leopard-print, and that's the kind of secret kick of attitude that I like. Buy through Saks for $1595.