Dolce & Gabbana, the perennial providers of bustier tops and leopard print, is probably not the first brand that springs to mind when you think of wear-to-work accessories. When I think of wearing the brand's clothes, the kinds of situations I picture usually involve skintight pencil skirts and very posh VIP clubs.
With the Dolce & Gabbana Cervo Doctor Bag, the signature sexiness is hidden on the inside in order to provide an exceptionally functional and ever-so-slightly conservative bag for a working woman. Save the leopard dress for nighttime, but this bag is just as comfortable in the daylight as the brand's sexiest clothing is after dark.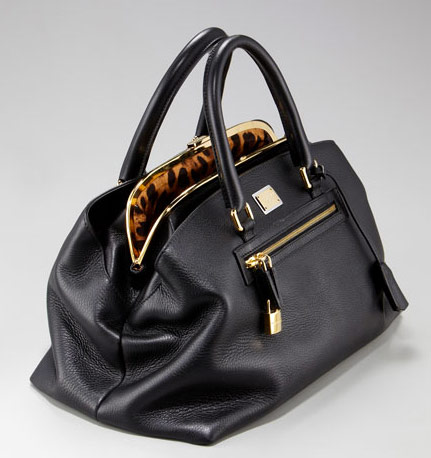 At first, this bag reminded me of some of Prada's Saffiano totes, but the doctor's closure and multiple compartments not only make it more interesting as a design, but also more functional. Many women dislike having to throw all of their possessions into a single dark compartment, and this construction would be ideal for people who want to stay more organized. Plus, the leopard lining gives you a little reminder of who you are when you're off the clock every time you open the bag. Buy through Neiman Marcus for $1945.