Balmain, French purveyor of clothes for rock stars and the models who spend their money, has not had great success in its meager attempts to create lust-worthy handbags. The clutches? They were bad. The messenger bags? Worse, if only because they were more expensive for the exact same schtick. But just in time for fashion to get sick of the glam military aesthetic, Balmain might have kinda-sorta gotten its handbag game together.
The Balmain Glitter Top Handle may not be a great handbag, but it's a very Balmain one, which rights most of the wrongs with the company's previous accessories designs. Not only were the bags not particularly cute, but they didn't have any of the edge or joie de vivre of your average Balmain piece.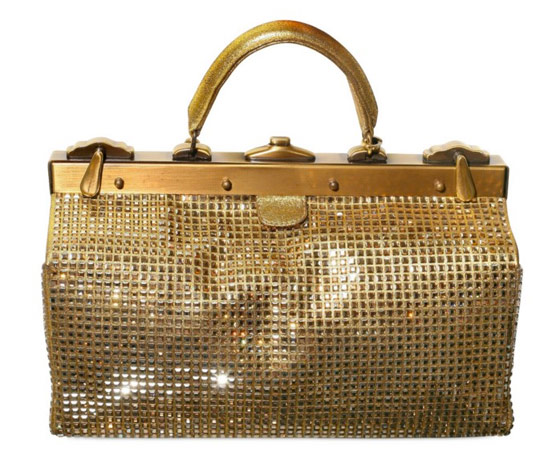 Balmain hasn't shown much ability to move forward with its aesthetic since Christophe Decarnin's designs became celebrity favorites several seasons ago, but if you're still itching to add some of the brand's signature gritty glamour to your wardrobe, this bag is a solid, functional way to do it. The golden exterior is dotted with Swarovski crystals and topped with a huge metal doctor-bag closure to complete the tonal look. This sort of design is highly taste-specific, so if this look is your thing and you have an extra six grand, grab this limited-edition bag while it's around. If I were to spend that much money on a handbag, though, this isn't the one I'd buy. Pre-order through Luisa Via Roma for $5916.