Resort handbags are one of my favorite lines to shop. It is most likely because Vlad and I live where many people vacation. Sure, Fort Lauderdale is quite hot right now, but the ocean breeze, blue skies, and warm weather keeps me here. Resort handbags are made for those that vacation or live in the right places with the right climate. When I lived in Ohio, a chic resort bag would be great for about one month, but I would still stand out. And as much as I like garnering attention, I do not crave the spotlight either. This is why I am rejoicing that I live in Florida and can easily wear the Kara Ross Levis Bag designed with a cork body and purple ostrich accents and handles. Kara Ross handbags have continued amaze me. Sure, I like a great black handbag, but I live 40 minutes from South Beach, I can work with the pizazz. In fact, I need more of it in my life! But this handbag by Kara Ross is not outlandish, in fact it is subdued, yet captivating.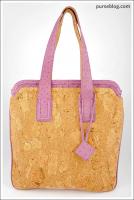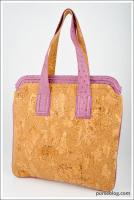 The Kara Ross Levis is a simple shape, offering the special touches with the materials. Kara Ross pairs materials, skins, and gems together that stand beautifully alone but combine perfectly to send a bag into the next level of distinction. The lightweight and light-colored cork body is accented with purple ostrich trim and handles. The top closes with a magnetic closure (3 magnets along the width) and leads way to a functional inside; sporting two pouch pockets, and a zip pocket. The inside of the bag is lined with beige suede and also trimmed with purple ostrich, which goes to show that Ross does not neglect the inside of the bag (which unfortunately many designers do).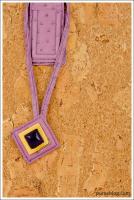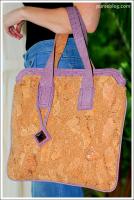 While the idea of using cork for a handbag is not entirely new, it is unique. The cork on this handbag is soft to the touch, in fact, if you close your eyes and run your fingers over the bag you would never guess it is cork. But then you can feel tiny grooves which allude to the material being different from the norm. The special Kara Ross touch is applied to the outside of the bag, with a cork, ostrich, and amethyst charm. This is that small but ideal finishing touch. The charm is not removable, but you could always flip the bag around if you do not feel like showing the stone off. There are only two potential problems one could run into: size and usability of the materials. The bag is flat and not meant to fit a towel or much at all. The bag is meant to keep its flat shape, which will keep it from bulging oddly and loosing the flat shape that it was designed to maintain. This is only a problem if you are looking to stuff the bag, which I would not recommend. But the upside of the purse not carrying much and being flat is that it holds closely to your body and is light weight. The only other aspect that I would take into account is the cork. I will not speak as if I know, because I do not. But how does cork wear? What is it like over time? Is it actually more sturdy or will it get dark if wet, change colors, etc? This would be something to take into account, but I could be entirely off base and cork could be one of the most time-friendly and sturdy materials since sturdy leather.
Of all the Kara Ross bags we received to review and shoot this is by far my favorite. Don't get me wrong, we have other brilliant designs that I adore, but there is something about this one-of-a-kind combination that has my full attention. This bag costs $1,355 via Kara Ross. If you are interested, inquire through their website, KaraRossNY.com.