Welcome to the PurseForum Roundup for Friday, August 16. We have reached the midpoint of August, and many PurseForum members are gearing up for school or starting to think about their fall wardrobes. But not us. We were in the mood to peek inside some handbags, so come on along and see what we found!
---
We love to snoop! Inside handbags, that is. The PurseForum has many threads dedicated to our favorite show-and-tell, and this week we stopped in the Chanel subforum to see what our members were packing inside their gorgeous bags. From minimalists to efficient bag stuffers, PurseForum members run the gamut when it comes to packing their bags. Sorbetmotorbag had a very interesting minimal collection in her Classic Flap, as did Mondrianum. But Nelig8 went a totally different direction when packing her spacious tote, as did ashin121, who made a very stylish trip to the vet with hers and came home with a little something we don't often see in these threads. Drop in and see what you discover!
---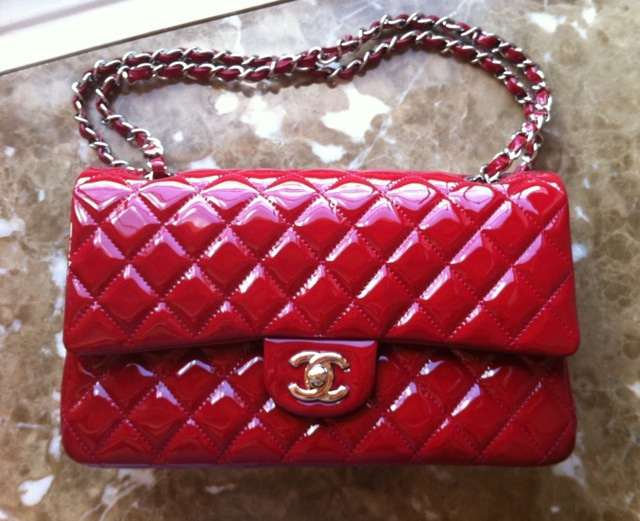 While in Chanel this week, we found a couple of terrific reveals to share with you. Poohbag picked up two red bags, and while one was just amazing, and the other she felt was, well, not so much. We then hit a live reveal just getting underway and fell hard for Purrrple's new lambskin tote and found ourselves heading back for another look. And another. Cherrycookies travelled to Paris and certainly found treasure, including some stunning vintage pieces. MDNA is looking for some input on her beautiful new red tote. Last, but certainly not least, do not miss the lovely pink flap that VintageShoe80 added to her collection this week.
---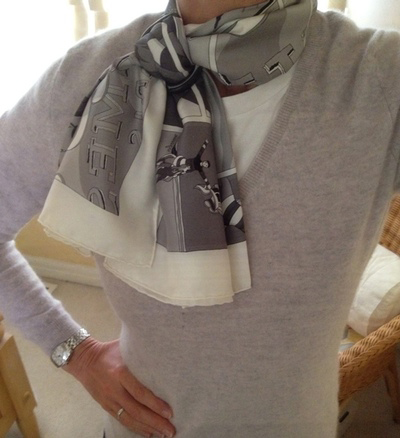 We took a little break from bag-snooping to visit the Wardrobe this week, where opinion-driven threads were really topping the charts. Beggarbaby wondered about her new statement blazer and got plenty of feedback, to be sure. Ash123 is looking for some help styling these boots, and soulsurfer88 is wondering if a particular pair of pants is age appropriate—for her mom!
In the Wardrobe's Accessories subforum, the topic of silk scarves is an ongoing conversation with plenty of modeling shots from scarf supporters, including this one from etoile de mer, who certainly styles them beautifully. Finally, we found some interesting reading in this thread about designer sunglasses. Whatever the fashion topic, you are sure to find it under discussion at the PurseForum!
---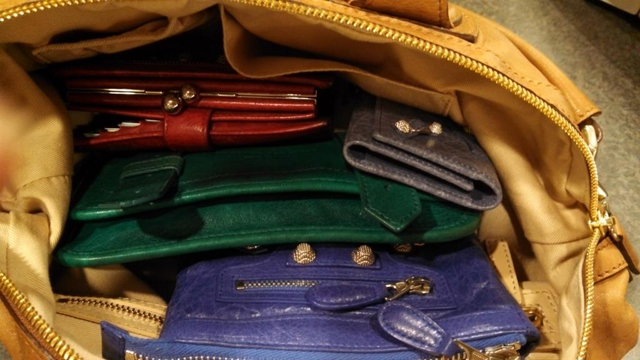 We certainly were not the only ones with bag-peeking in mind this week. Over in Givenchy, there is a brand new "What's Inside Your Bag" thread, and it's off to a flying start. Threadstarter LoveHandbags! launched the topic with a look inside her Nightingale, and her fellow Givenchy lover k_elizabeth joined the fun by showing us what is in her luscious Lucrezia. We look forward to seeing more of these fabulous Givenchy bags, and of course their contents!
In keeping with our rather loosely constructed theme of looking into bags and giving opinions, we wanted to also direct you to Katie08's thread in Givenchy, in which she needs help deciding on a color for her new bag. Please stop in here and lend her a hand! Prada123 is also looking for help – and we were firmly on the fence with this one – deciding on a color for her new bag. We were no help at all, we love both.
---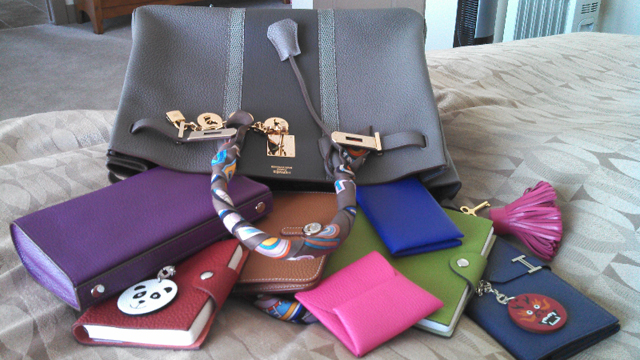 If you are in the mood for more small leather goods (SLGs) and other nifty items to keep in your bags, there are plenty of threads across the PurseForum to inspire you. The Hermès take on this theme is a long-running ode to the endless "rainbow" of SLGs offered by this color-saturated brand. We found ourselves enjoying the show and stopping in our tracks when birkin10600 shared this jaw-dropping collection of goodies. And please don't miss the incredible assemblage from ilovenicebags here and here. This fun thread is full of leather to lust after!
Curious Roundup readers will find a bag to peer into no matter your style or budget. We get up close and personal with the insides of Marc Jacobs, Celine, Balenciaga, Michael Kors, Louis Vuitton, Coach and more, so please drop in your favorite subforum and join the fun.
We hope you have enjoyed looking into some of the lovely bags and getting to know our even lovelier members this week. We look forward to preparing another Roundup and seeing you right here in seven days. Have a wonderful weekend!