Prada's design aesthetic is very particular, in fact many of us could pick the Prada bags out of a handbag line-up in a jiffy. This Prada Cervo Satchel is no different. The reason I needed to share it with you is because its simplicity is striking. Sometimes that speaks volumes for a bag. There is a bit of urban meets sophisticated meets casual, which works entirely well for this bag.
Prada keeps slipping below our radar. Their bags easily become predictable, which doesn't always work well when we expect new and enthralling. Does this bag get the job done?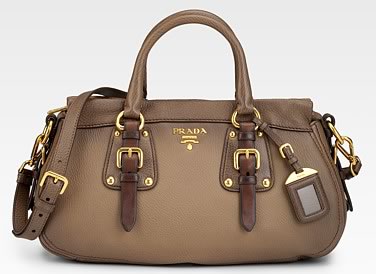 I think so. The deerskin leather is sturdy and makes me want to touch it. I absolutely adore the contrasting belt buckle detail and vintage leather finish the bag seems to have. Not everyone utilizes optional shoulder straps, but I for one welcome them to my handbag collection – they make it easy to be productive and hands free.
Saks recently added user reviews, which I am a big fan of reading. On every site I shop I read reviews left by others who have bought the item. Unfortunately for this pretty to look at Prada bag, it seems the two reviewers were not happy. One felt the color was more grey than brown and the other said the leather started to flake. The only reason I have any reservations from putting a full on stamp of approval is these two ratings. Buy via Saks for $1,695.
Do you rely on others reviews?