The buzz surrounding Prada's S/S '20 show yesterday is still being discussed. Inside of the industrial Fondazione space, bright colors and cool pastels combined to give off that quirky Prada vibe we know and expect. When talking to Miuccia Prada about this collection, it was clear that the clothing for this season focused on the wearer themselves as she stated "the person should be more important than the clothes" and that "personal style is more important than clothes."
There was also a lot of discussion around sustainability, as this is important to Mrs Prada personally. This was evident, as the clothing showed a clear less-is-more approach with beautifully tailored suits and pieces that could become very wearable long term closet staples.






While the clothes impressed, I know you're here for the bags. The runway showed us some new styles as well as updates to existing bags. Quite a few bucket bags appeared and are a big push for Spring/Summer 2020, ranging from classic black with the Prada emblem and logo, to a brown version with rope-knot detailing… to my personal favorite, a woven version that showcased woven leather on the upper part, paired with a smooth leather bottom. The bucket bag is often an overlooked shape, especially in this literal sense, but has made a resurgence and Prada agrees the shape is here to stay. Various versions show different handles as well from calfskin to woven to beech wood to knotted natural rope.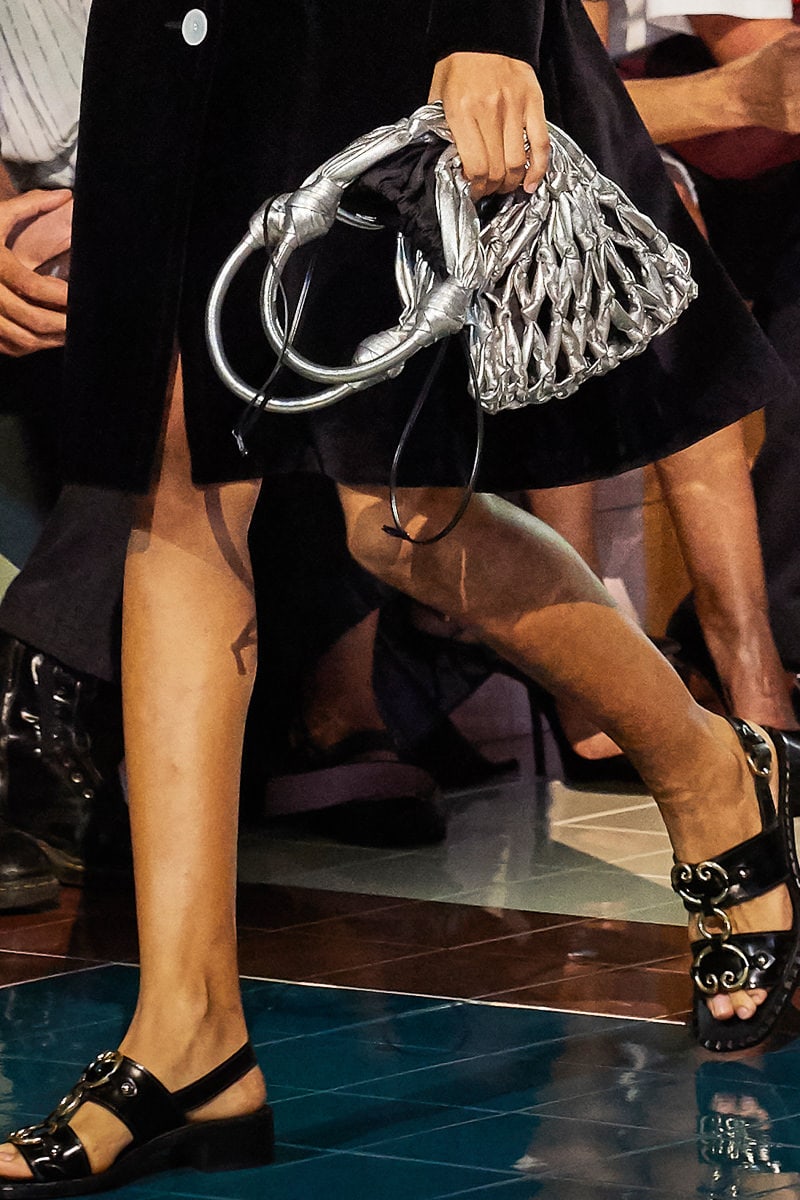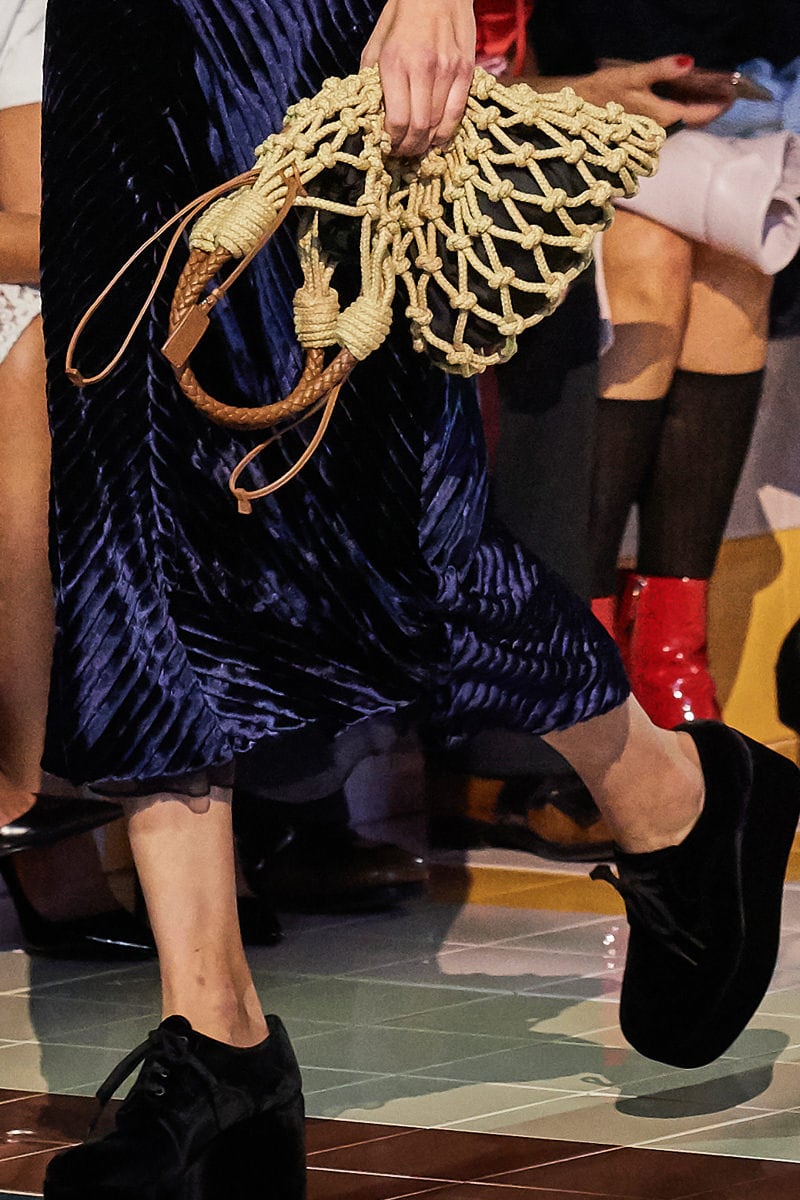 The iconic Prada Mesh Bag made its way in a new interpretation featuring fully hand-knotted tubular rope alongside birch wood and laminated Nappa leather elements. The models carried these bags clutching the body of the bag, but I assure you this is the Mesh Bag that you know (and I love) with a modern twist. The inner bag of these is made of contrasting black nylon.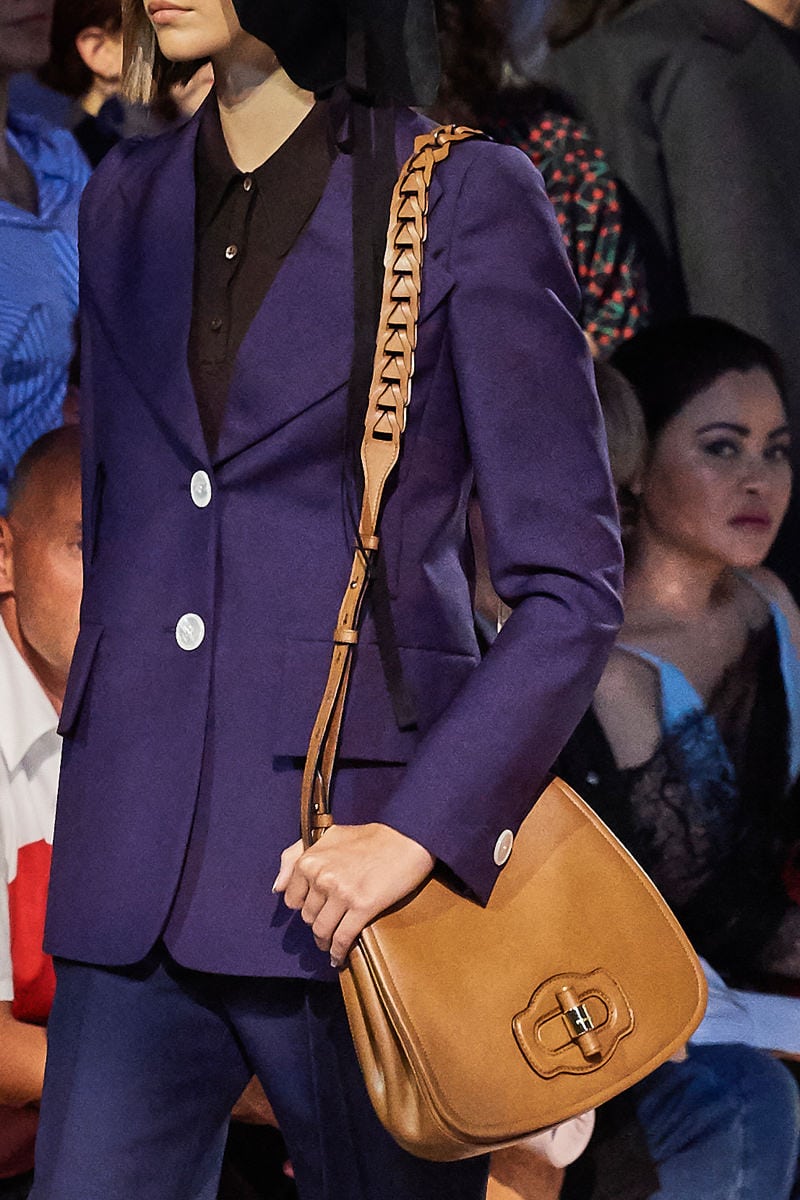 The Prada Saddlebag Model is a standout of the group. The leather swivel closure really makes the bag standout along with the adjustable shoulder strap which features woven elements.
There weren't a ton of great photos of the raffia bucket bags, but these are as standout. The natural raffia bags were handcrafted in India and pair beautifully with the smooth calfskin and steel hardware.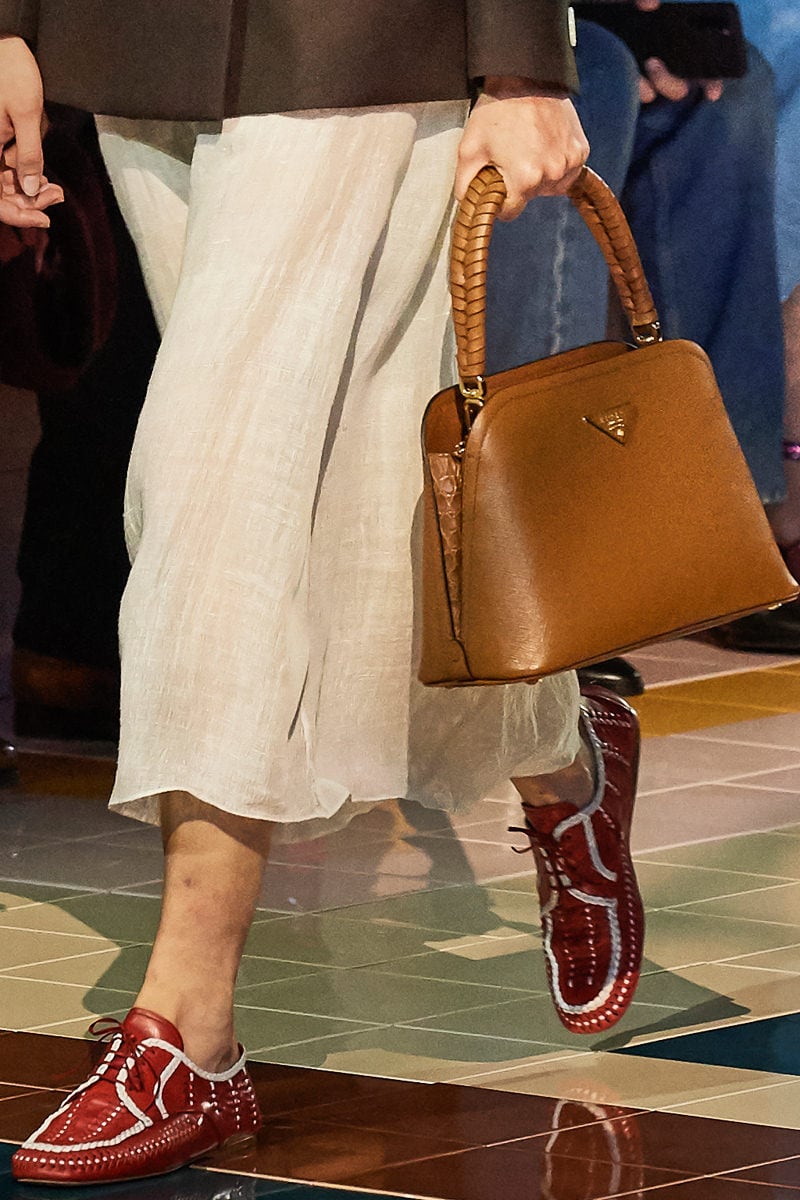 The Prada Matinee, first introduced in the FW19 collection, is updated with details in crocodile and new woven handles. More to come on this bag soon as the classic shape stands out as a very Prada design which makes for a great daily carry.





Another new shape that made an appearance was a line of flaps of different shapes and constructions, characterized by a swivel closure (similar to the larger saddlebag above). Depending on the version, the swivel closure is either finished with leather or coated in a colored resin. Saffiano cuir, smooth calfskin, python, and shiny crocodile options were all seen on the runway.