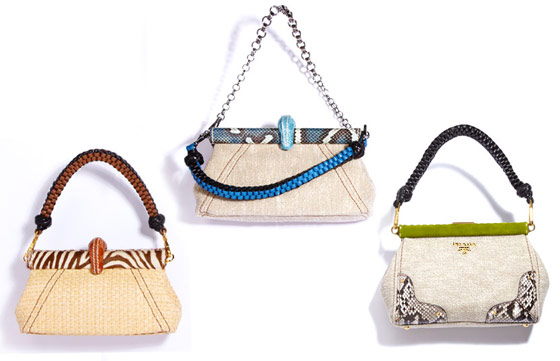 It's almost unfair to sit here in the doldrums of November and be forced to look at Prada Resort 2011 handbags, and days like today make it all the more clear that fashion's season cycle is set up to make consumers (and bloggers) continually want what we can't quite have or use. Even if Prada's python- and crocodile-accented linen bags were available today, I wouldn't have anything to do with them. They'd just sit next to me on the couch while I complain about the weather on Twitter. Under lots of blankets, of course.
But one day, the sun shall shine again and I shall leave the house without a coat, I know it, and for those days, one of these little bags would be a fun thing to have. I don't think I could ever justify spending Prada amounts of money on linen or straw, but if money were no object, I'd love to have all three of these bags for the imaginary midwinter cruise that I'm going to be taking in my head. Wait, never mind, not an imaginary cruise. I don't want to get stuck at sea and have to eat my imaginary Prada bag to stay alive. It'll be an imaginary flight to the Bahamas instead.
Larger photos and purchasing information, after the jump.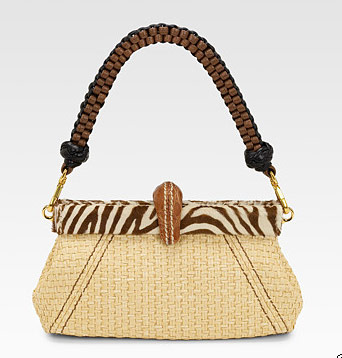 Prada Paglia Twist Straw Shoulder Bag, $1950 via Saks.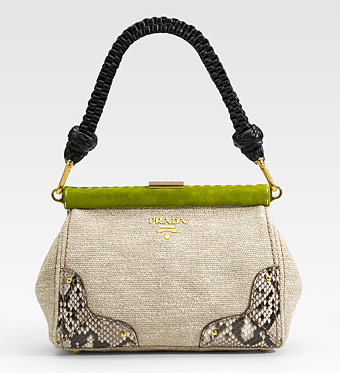 Prada Lino Twist Frame Shoulder Bag, $1895 via Saks.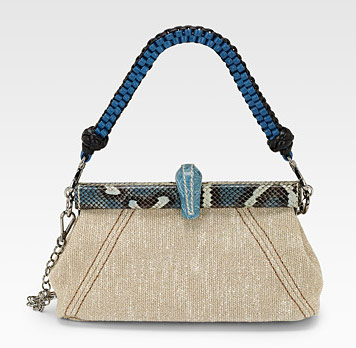 Prada Lino Twist Frame Linen Bag, $2250 via Saks.