Prada and I need to have a little conversation about the Prada Perforated Roll Bag. I have some thoughts, and they would probably best be expressed in private. And by "in private," I mean "after the jump."
I think that the handbag folks at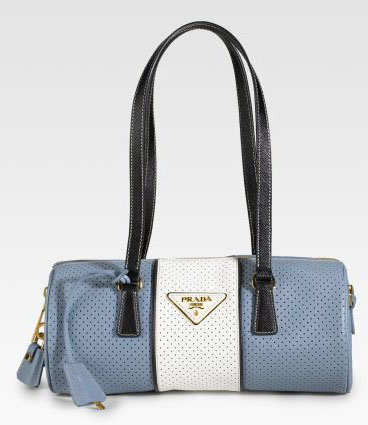 Where do I even start?
Miuccia & Co., we have a problem here. Prada turns out some fine handbags, no doubt about it, but I think it might be time for the collection to refocus on designing a few truly great bags instead of making a huge collection of bags wherein a lot of them are just…mind-boggling. In a bad way.
There's no reason that a bag that looks like it was made to coordinate with a University of North Carolina basketball jersey should be produced by a top fashion house and marketed to grown women for over a thousand dollars. The whole premise is mildly insulting. Come to think of it, this thing also bares a striking resemblance to a pencil bag that I had in elementary school, with the addition of some oddly long handles.
It disappoints me that the same people that were responsible for the utterly genius and gorgeous Gauffre bags are the ones that have now come up with what we see here – they can do a lot better, and we all know it. Buy through Saks for $1295.