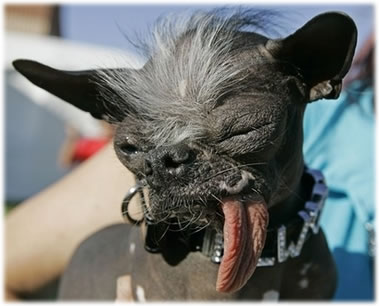 There is actually a competition for the World's Ugliest dog and this creature actually won it. "Elwood" is a Chinese Crested dog and dubbed the ugliest dog in the world. Do you agree, is Elwood seriously ugly? Do you think having a contest for the ugliest dog is really necessary? Do you think owners who enter their dogs are cruel?

Let's enjoy a weekend debate!
The Chinese Crested dog 'Elwood' appears at the 2007 World's Ugliest Dog Contest Friday, June 22, 2007, in Petaluma, Calif. Elwood, who weighs in at just 6 lbs and was rescued as the result of a New Jersey SPCA investigation, has won the title of World's ugliest dog of 2007.