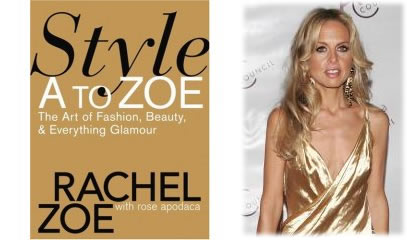 Love her or hate her, it is not new knowledge that Rachel Zoe is the driving force behind many of today's trends. From celebrities like Cameron Diaz and Lindsay Lohan to Salma Hayek, Zoe decides what is the best look and the rest of the world scavengers to attain that look. Zoe has a profound influence and impact on the fashion world. The dress that you went out to buy, the shoes you yearned for, the oversized sunglasses you had to have, were all catapulted from what Zoe decided was hot.
Rachel Zoe wanted to share her fashion tips and secrets with the world, writing the book Style A to Zoe: The Art of Fashion, Beauty, & Everything Glamour. If you are looking for this book to turn you into a Lindsay Lohan, Mischa Barton, or even Rachel Zoe, don't expect that. But do expect this book to help you pave your way and your style. The first tip Zoe gives is the most important piece of advice; 'know thyself and create your own look'. Don't buy something because you saw it on a celebrity, buy it because it looks good on you and fits your style. What you all will love is that Rachel Zoe depends on accessories to make our break your outfit, she believes accessories are more important than clothes. That statement alone lured me in, because it is the statement I live by and agree with. As far as handbags go, Zoe is a firm believer in sticking to a quality classic rather than a logo-splattered bag. Thumbs up from me thus far!
The book proceeds to lead you through her tips, yet the idea that rings out loud and clear is to wear what you like, feel comfortable in your skin, and don't be afraid to be bold and daring. If you buy a quirky and in-your-face dress, wear it. Carry yourself with confidence and you will project an image of confidence in your skin. The book does not make you into something that you are not, rather it guides you to find your sense of style and what works for you best. Rachel finishes the book off with an important statement; The meaning of life is living it.
This book was a fun read, which illustrates Zoe's list of must haves but allows you to tweak your style along the way. I plan on keeping this book on my coffee table for some time, offering guests to my home a conversation piece from one of the most influential icons in the fashion world.
Buy the book at Amazon for $16.49.