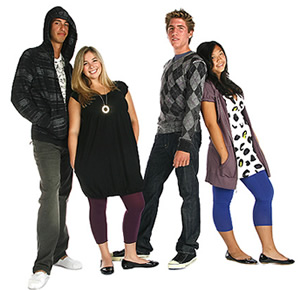 Not only are the 'grown-ups' dishing out more money on designer clothing, but now kids are too. And this means that the kids parents are willing to spend money on designer clothing and handbags for their children to take to school. While a Jansport backpack was norm when I was in school, girls are now carrying designer handbags such as Coach and Louis Vuitton. While jeans look laid back and casual, a pair of True Religion jeans can run around $250. Designer shades, clothing, and accessories are being sported by tweens and teens, which means an entire generation of youth believes this is the way to go. This story focuses on the Orange County, California area, but this designer explosion is happening nationwide.
For those of you with tweens and teens, what did you send your kids back to school wearing? It is utterly ridiculous that 15 year olds have jeans that cost $250, sunglasses that cost $300, and a handbag that costs $500?
Many teens polled were prone to vying for designer brands just as much as any fashionable grown-up. Girls listed Juicy Couture, Coach, Chanel and L.A.M.B as favorite brands, in addition to traditional surf brands like Roxy and Volcom. Girls also said they favored Pink by Victoria's Secret as a more affordable alternative to Juicy Couture, with the line's comfortable, girly sweatpants and cutesy graphic tees. Seven for All Mankind and True Religion were popular denim brands.
Read the entire article at OC register