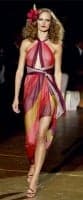 Marc Jacobs is almost inarguably the king of New York Fashion Week, and his Marc Jacobs Collection show is always the most sought-after invitation of them all (at least stateside). This year, the show livestreamed online to thousands of fans while the editors and buyers looked on in Manhattan, and what a splendid show Marc created to kick off the digital age at his company – if you like a good 70s reference in your spring wardrobe, that is.
Jacobs will also join us in the 21st century by launching online retail at MarcJacobs.com today, but you'll have to wait until next year if you want to scoop up the collection's fabulously wearable printed dresses and (slightly less fabulous) shiny pantsuits in a palette of plum, pumpkin and raspberry. While you wait patiently, we have photos of the best looks to entice you, after the jump. Oh, and the bags! How could I forget the bags? Jacobs took a refreshing turn back to normalcy this season, and the richly hued day clutch seems to be his bag of choice for spring.
From his runway to God's ears, as they say.

Photos courtesy of Style.com.