I can hardly even bring myself to give you a proper review of this bag. I mean, look at the name: the Marc by Marc Jacobs Jacobs He's Not Dead, He's Just Breakdancing Winnie Bag. That is the full name, what a mouthful! Who at MbMJ even thought of this ridiculously long name? Maybe the thought came because the design is a bit lackluster and the absurdly gold/neon chain is distracting.
Then again, maybe the obscenely long name makes perfect sense for the confusion this bag brings.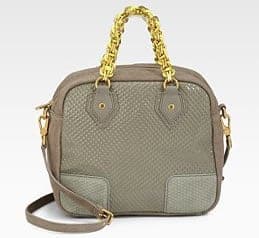 Let's break it down and see if we can pull the design together with the name. The He's Not Dead part, well, I take that to mean the simple plain suede in boring putty color has more to it than meets the eye. That is right, this bag is Just Breakdancing! The breakdancing aspect of this bag is the zing you get with the double top handles made with in-your-face gold and yellow neon.
The ridiculous awesomeness of the name does not distract from the utter mess of the bag itself. The shape is not flattering, the color is drab, the gold hardware is tacky, and their isn't much overall appeal. I can tell you that I will be remembering this bag for one simple reason: its name. Buy via Saks for $598.