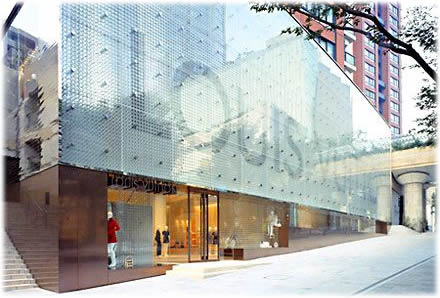 All luxury handbag designers are busy trying to lure in new customers, and keep their established customers spending more and more. Louis Vuitton does an exceptional job every season keeping its customers satisfied. Every season we are bombarded with a copious amount of new handbags and accessories to buy, and more often than not the name of the handbag is followed by the words limited edition. These two words spell trouble for bank accounts around the globe as women scramble to be first on the waitlist. Limited edition is often equated with exclusivity and we will gladly pay over $2000 for a canvas bag because only 5000 were produced!
Recently, I have pondered what limited edition really means. Louis Vuitton has recently re-released several limited edition items and has subsequently caused me to really think about my purchases. For example, the Millionaires sunglasses were recently re-released this past summer. Great news for those who missed out the first time, but for those who were lucky to obtain the first time around how do you now feel? Personally, I would feel slighted and angry that the company was dishonest with me! As another example, the Monogram Olympe Nimbus was released for the Spring/Summer 2007 season in two colors. Originally offered as a limited edition item, it has now been re-released for Fall/Winter 2007 in two new colors and a new size!! The Monogram Miroir was re-released in the Lockit style. And the heart coin purse, which sold out in weeks, is also being re-released this upcoming winter!!!
All of this does make me really think about the purchases I will make. Do I buy a bag solely because it is limited edition, or because I love the bag? Do I buy the bag to use it, or to collect it and possibly resell it in the future? If bags and accessories are being re-released it causes the resale value to decline, and of course the exclusivity associated with the brand also starts to decline?

How would you feel if this happened to you?
Call 1-866-VUITTON for information about upcoming limited edition releases.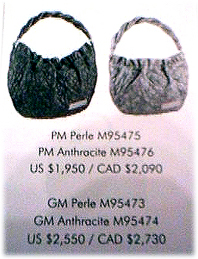 Monogram Olympe Nimbus Fall/Winter 2007 Re-Release in Perle & Anthracite
PM: $1950
GM: $2550