One of the most interesting parts of this job is seeing how people arrive at our site. You guys get here in a zillion different ways, but one of the most persistent is your interest in the Louis Vuitton Neverfull, in all of its many sizes and incarnations. And really, I can't blame you – the Neverfull is a foundational piece in the most important handbag line in the world, and it's so versatile that it can be a useful wardrobe addition to almost anyone.
I'm getting ahead of myself, though. It seems logical that a lot of the people visiting our site in pursuit of the Neverfull are trying to make a purchase decision of some sort, and because we like to consider ourselves a service-y bunch, we thought we'd put together a handy guide as to why, exactly, the Neverfull is such a smart way to go when looking to buy a good take-anywhere tote.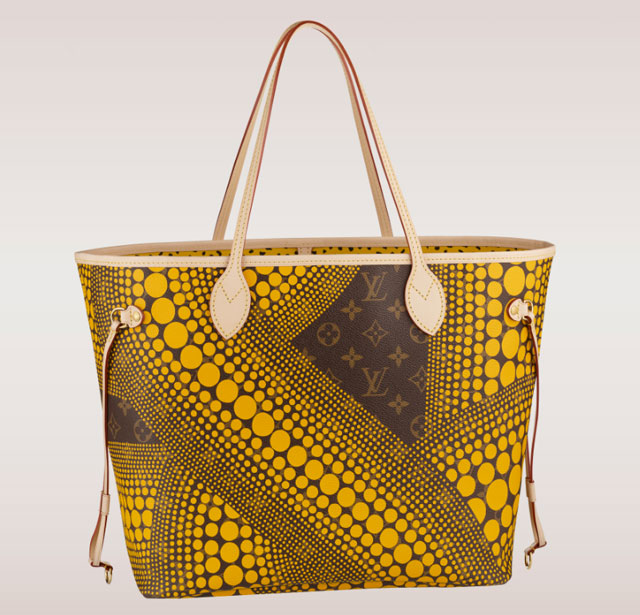 It really is never full
That might be a slight exaggeration, but the point stands – no matter which size you opt for, you're going to be able to fit more in a Neverfull than you'd expect. Because the sides aren't rigid and the shape is fairly loose, the bag conforms to the size of your belongings. With the biggest (GM) size, I'm pretty sure I could fit anything I ever really want to carry anywhere.
It comes in a million versions
Like the Louis Vuitton Speedy, the Neverfull is a foundation piece in the enormous Louis Vuitton line. That means that when it comes time for Vuitton to do one of its world-famous artist collaborations, the Neverfull is almost always on the list of bags that get the treatment. The works of artists like Stephen Sprouse, Yayoi Kusama and Takashi Murakami have all graced the bag, and that's on top of the myriad permanent and seasonal iterations available at any given time. Whether you're in the market for a collector's piece or a basic Monogram Canvas or Damier model to start your collection, the Neverfull can scratch that itch.
All of the versions are durable
Longtime Louis lovers don't even need to read this one, because they already know – Vuitton's treated canvas products are well-nigh indestructible. I have 20-year-old Vuitton pieces that still take a beating like a champ. Some customers have reported issues with the handle glaze on the Damier Ebene version specifically, but Vuitton stands behind its pieces very well – all the mentions of issues that I could find on our Forum also included details on how the product was either exchanged in the store or repaired by the brand. That's a lot more than a lot of brands will do for customers, unfortunately. (Although it's fortunate if you're looking to buy a Vuitton bag.)
It's a great way to start a Vuitton collection
Depending on size, basic monogram Neverfulls will run you between $800 and $900. Considering how enormously expensive Louis Vuitton bags get when you start to look at leathers (and, god forbid, exotics), the Neverfull is an excellent value and a great place to start a collection and find out if you like a brand's products enough to save up and branch out within the line. It's something that can be carried every day and that will serve a lot of purposes – that's exactly where you want to start.
The Neverfull is totally reversible
Somehow, I didn't know about the Neverfull's biggest feature until recently. Sick of the monogram? Just want to switch things up? Need a different color? Flip the bag inside out, problem solved. Few designs give you that level of versatility, and that's on top of how functional the bag is to begin with.
So what are you waiting for? Pick up a Neverfull of your own via Louis Vuitton, starting at $800.
P.S. Please consider supporting our small, bag-loving team by clicking our links before shopping or checking out at your favorite online retailers like Amazon, Neiman Marcus, Nordstrom, or any of the listed partners on our shop page. We truly appreciate your support!