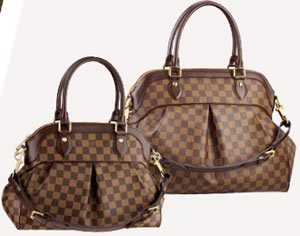 One of the deciding factors when I purchase a new handbag is whether or not the bag is functional. If I can't fit all my 'stuff' (which sometimes can include the kitchen sink) in it, then what is the point of paying upwards of $1000 for the bag? I am also not a huge fan of letting the weather dictate which bag I can carry that day. I just want to grab a bag, sling it on my shoulder, and run out the door! Thus, the Louis Vuitton Damier line has always appealed to me. These bags can take a beating and never show it! I have seen bags that are 10 years old and look like brand new. The problem with this line is that the bag has never been just right. The bags have always been a little too fancy and grown-up for my taste (e.g. Duomo) or a bit too casual (e.g. Saleya).
Louis Vuitton has finally got it right with the new Louis Vuitton Damier Trevi. This bag, just released earlier this month, is certainly functional. It can be a shoulder bag, or the strap can be removed and carried by hand. The zippered top provides security from prying hands. The pleat adds volume and a funky edge to keep it youthful, but not too casual. In additional to all these wonderful attributes the bag also comes in two sizes. The GM (16 x 12 x 8) is big enough to carry around the kitchen sink, while the PM (13 x 9 x6) is just big enough to fit all the essentials without being overloaded. And of course the price;at only $1725 for the GM and $1425 for the PM it is not too overwhelming! At least my bank account didn't shudder in disbelief for once!
Contact 1-866-VUITTON for more details or shop at eLuxury's official Louis Vuitton boutique.