Hi,

I go on your site daily and love it!!. I love to read your reviews and have bought some of the bags you have recommended. I have a quick question. I am torn between two Louis Vuitton bags. I am interested in the Neverfull MM and the Speedy 35. I am going with the Damier version. I am looking long term and would be interested in your opinion.

I am more traditional than not and I am a stay at home mom. I did purchase a YSL muse bag over Christmas. I got the cranberry color. It really is beautiful. Also, I am 40 years old. I want it to be age appropriate.

Thanks so much,

Jenna E.
It has been a while since my last installment of Ask Megs. In fact, it has been 2 years. We get dozens of emails daily and many of them are questions about bags. Because I spend all day researching, looking at, and shopping for bags, I love to help anyone else out in their quest. This week I am spotlighting Jenna E., who is torn between purchasing the Louis Vuitton Damier Neverfull and the Louis Vuitton Damier Speedy.
Jenna, it comes down to preference and what use you need from your handbag. That first line I just told you is entirely vague and probably annoying to read. But I promise to clarify my feelings on each bags, which hopefully will help you pick which is the best fit for you.
Louis Vuitton Speedy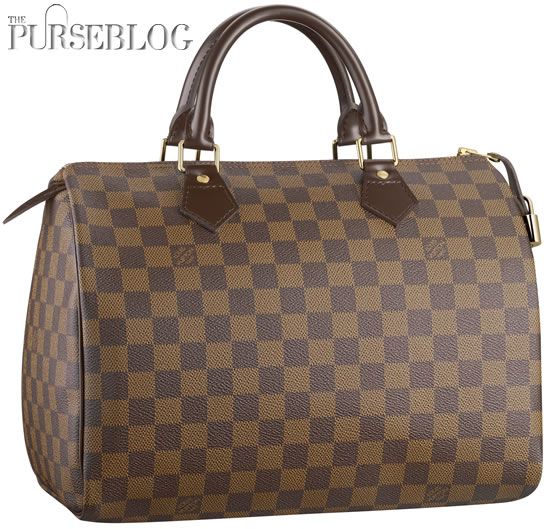 The Louis Vuitton Speedy is one of the most classic, most iconic, most recognizable handbags of all time. Many designers have tried to channel the Speedy when designing a bag, but nothing beats the original. The shape alone is worth buying (which is a major part of it being a Speedy). Now comes in personal preference. The Speedy does not fit over your shoulder, at all. My Speedy bags sit at the crux of my arm, and depending on how much I put in the bag they end up being heavy and hurting my arm a bit. So I just use it as a hand-held bag, and that is the true use. If you are looking for a bag to go over your shoulder, this is not the bag for you.
Furthermore, the Speedy does not keep its shape very well. The larger the Speedy size, the more you will lose the shape. Also, the more you put in the bag, the more it will lose its shape. There are aftermarket items used to give the shape back to your bag, but without that, your Speedy will slouch. An inside zip pocket helps out with some organization, but not much.
It sounds like I only gave negatives for the Speedy, which was not my intention. I love my Louis Vuitton Speedys, and I own 3 of them. The 25 cm, 30 cm, and 35 cm. The 35 cm is best for everyday use and will hold more essentials. It will never change being one of the most classic handbags ever. I personally love it, but felt the need to share the downsides.
Louis Vuitton Neverfull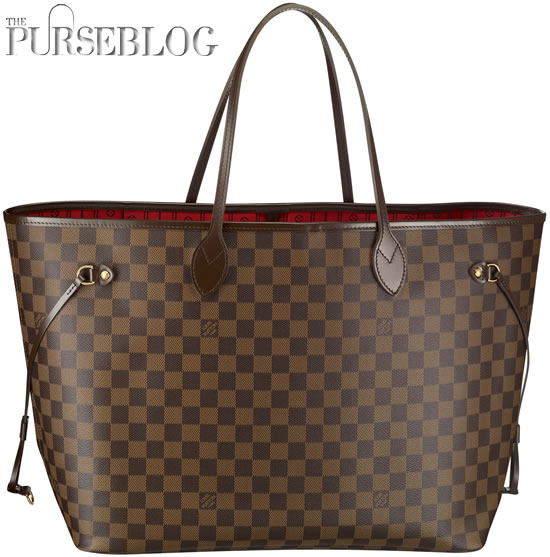 The bag you want to compare the Speedy to is the Louis Vuitton Neverfull, which has become another House staple. How can you not love this bag? It is lightweight, roomy, and reversible. The strongest point of this bag is its ease of use. The side laces allow you to tighten the bag into a more compact shape or let them out to a full tote size. Either way, the volume of the inside of the bag is vast. And of course, it is reversible, which is a nice touch and not found on many (if any) designer handbags.
It is not that the Speedy is not lightweight, but the large and long shoulder straps of the Neverfull will allow you to put this bag over your shoulder with ease and allocate the weight better for carrying. The shoulder straps are long and slender, without any additional chains or weight, which will not have it dig into your body.
The look of the bag is not nearly as iconic as the Speedy, but it is a great, simple, everyday tote. And an everyday tote is an essential for any collection. However, you did just tell me you bought a YSL Muse. The Muse offers a similar shape to the Speedy but looks more like the Neverfull if you have the side pulls cinched. I am having a hard time leaning either way for you. I would suggest deciding if you want a bag that can be worn over your shoulder comfortably or not and which looks strikes you the most. Hope this helps!
Buy the Speedy 35 in Damier at LV online for $715 and the Neverfull MM in Damier for $700.
If you have a question you would like to see answered, contact us and title your email "Ask Megs".