There are a number of things that never cease to spark a hint of curiosity within me. PurseBlog posts fall into this category. As I sipped on my coffee this morning and read Amanda's post on the Prada Saffiano Print Tote, something she said really resonated with me. She mentioned how some bags don't seem to make sense until you see them in person. I couldn't agree with her more. So, I drifted off a bit and began thinking of so many bags that I wouldn't give a second look to online but can barely keep my hands off in person.
And then, in the very next thought, I began thinking about the bags I look at online and wish I could reach through my computer, grab and run. Lanvin bags fall in this category.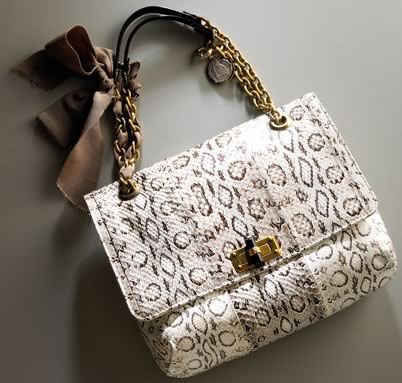 With Lanvin on the brain I went on a Lanvin handbag hunt. I checked out other bags we've covered here as well as new bags available. Of course I came across this fabulous Lanvin Happy Snakeskin Shoulder Bag that in typical fashion I wished I could reach out and touch.
This ivory/multicolor water snake leather with black detailing is just one more gorgeous Lanvin handbag for me to lust after. I love everything about this bag. Most importantly, this is a bag that absolutely exudes class and sophistication without the slightest hint of pompousness. Granted, that could all be changed based on who carries the bag, but that is not something I focus on. Fabulous brass hardware, chain-inset shoulder straps (8″ drop) and a flap top with a turn-lock closure all come together perfectly. Thank you Lanvin, thank you for continuing to make me a fan. Buy through Bergdorf Goodman for $2230.