After featuring a crystal-encrusted Valentino bag so prominently yesterday, it's only fair to recognize the brand that made sparkly animal clutches into a worldwide business. Judith Leiber can bedazzle anything and make it into a great work of inventiveness, but my favorites from the brand are often among its more restrained offerings.
It's difficult to imagine a context in which the Judith Leiber Crystal Chain Strap Clutch could be considered "restrained," and yet that's exactly what this evening bag is, when compared to a Swarovski-studded Dachsund.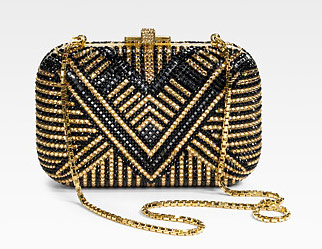 Art Deco-inspired fashion has an exuberance and life to it that I just love – we had just emerged from the first World War and had yet to see the Great Depression, the Holocaust or the Cold War. The economy was booming, opportunity appeared to be everywhere, and you can see that reflected in the clothing and design that reached acclaim during the era. The lines and colors in this minaudiere are clearly referential of that era, and it makes me want to go out and find a spangly, drop-waist party frock with which to pair it. Buy through Saks for $2495.