While so many expect and embrace bright colored hues for Spring, sometimes a subdued neutral is precisely what we need. I adore the look of neutral accessories paired with crisp whites or colorful spring prints. Jimmy Choo sometimes delights us and sometimes lets us down in the handbag department, but this Jimmy Choo bag is nothing short of gorgeous.
I have previously covered the Sky Hobo which was met with positive reviews. But now I found a version I love even more, the Jimmy Choo Sky Snake-Trim Leather Hobo.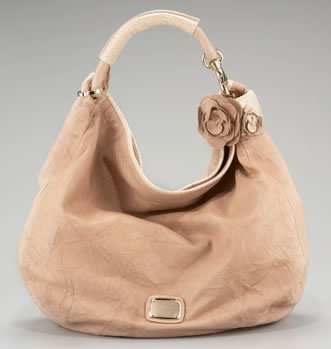 Isn't she lovely? There is the perfect combination of textures and trimmings. We first have snakeskin trim, which is not over-powering rather the perfectly needed addition. And my favorite add-on is the romantic rosettes (one larger and one smaller). With a simple hobo shape, the extra touches are precisely what this bag calls for. There is a black leather option, but I have my eye set on the powder pink option. Pre-order via Neiman Marcus for $1,350.