With the hundreds of emails that pile in my inbox daily, I am utterly thrilled when there is something that actually catches my attention. I received an email from a Nicole Miller rep about a new handbag line by the company which was inspired by bicycle chains. I was skeptical upon reading the email, but once I opened the image, I found myself totally digging the product.
I am happy to introduce the Nicole Miller Bicycle Chain Bag (I believe this is called the Addison collection). Nicole got the idea for this collection after being inspired by all of the people in her TriBeCa neighborhood riding bikes. Once she had decided on creating the bag, she researched bicycle chains and got to work on the prototype. What I have been told is that Nicole gets far more compliments from men on this bag than any other bag in her collection. That means her bicycle chain bag is not a Man-Repeller rather a Man-Attractor.
Let's take a closer look at this design from Nicole Miller: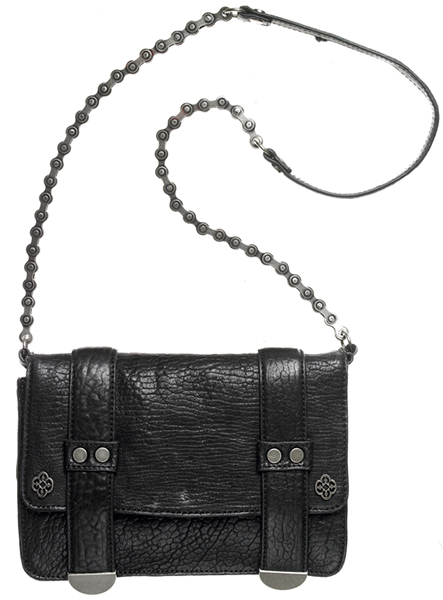 I love that I get a downtown cool vibe (a little Proenza Schouler-esque). Yet the look is very unique and not too close to any other design we see in the handbag market today. In fact, Nicole Miller has done something that is a handbag designer's dream: make a bag that is brand recognizable.
The size looks spacious yet practical and the overall design is edgy yet pulled-together. I assure you we will be seeing more of this design from Nicole Miller. Also, price is absolutely reasonable: $295. Buy via Nicole Miller online NOW or wait for this exact version come fall.