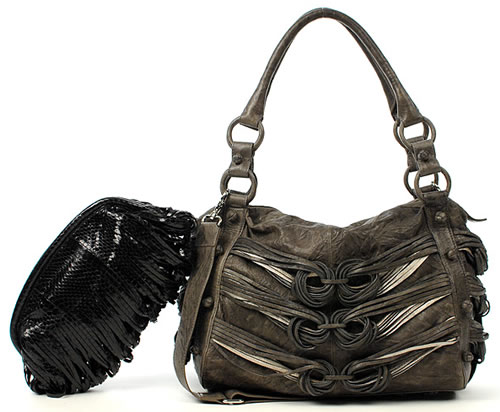 One of my first stops when looking for new designers in the handbag world is Lux Couture. Lux Couture, dubbed the haute spot for designer handbags, often introduces the work of new designers who ultimately make a name for themselves. The people behind the website, like the fabulous Sari Brown, are on top of the game. Sari introduced me to the stunning designs behind new designer Katherine Kwei, and it is evident with the meticulous craftsmanship and funky designs that these handbags are sure to be a hit. Lux Couture put together a fabulous bio for Kwei, which can be read below:
A former PR rep for luxury giant Louis Vuitton, Kwei was familiar with high-end skins and craftsmanship long before she started her own line. By drawing on her heritage and the tradition of Chinese knotting to make her modern luxury bags, Kwei gives her designs a special, personal quality (a far cry from what you find with her former employer's logo covered totes). There's no decorative bling or extras, it's the intricate knotting that makes these bags so stunning. You might think so much handiwork would make her bags seem precious, but they look edgy and tough – a perfect representation of the modern woman who's both feminine and strong.
Coming from a designer background, Kwei picked up on what the eye loves and hones in on her skill of knotting and crafting her materials to design stellar handbags. Available on Lux Couture right now are the Katherine Kwei Donna Clutch and the Katherine Kwei Teresa Hobo. The clutch uses shiny water snake with slit tactic to shape the material into strips and then is knotted at the bottom. The hobo is a treat for the eyes, featuring knotted strips of leather that are so precisely devised that the hardware can barely be seen by the eye. With the amount of time that must go into this handbags, the price is beyond reasonable. And the more I am looking at these handbags, the more I am falling in love.
Buy the clutch for $850 and the hobo for $700 at Lux Couture.