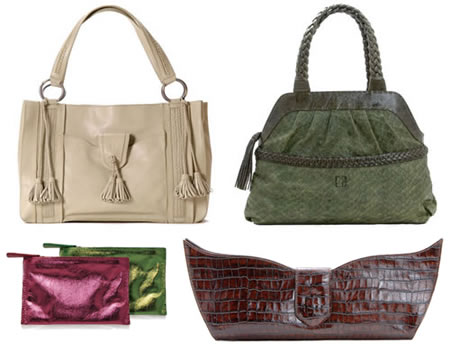 (Top left to right: Verbena, Sequoia. Bottom left to right: Conus, Viola)
I always appreciate getting emails from designers about their new handbag lines. It is hard to find out about each new designer myself, so getting an email gives me the perfect heads up. This post is long over-due, but this is a new brand that offers a great selection of practical everyday handbags. Today I am introducing you to Catherine Adair Handbags, which were featured on The Rachel Ray Show on October 5th of this year. The designer behind Catherine Adair is Catherine, who goes by the name Cate. Cate is not new to the fashion world, having been the Emmy-nominated Costume Designer for the well-known series, Desperate Housewives. With an outreach like Desperate Housewives carries, Cate has been credited with influencing fashion trends in 203 countries. While you watch this series, you undoubtedly check out the designer outfits of the ladies (as I always have) and wonder who thinks it up and where you can get the outfits. Now Cate has branched into the handbag design world, offering extensive knowledge and experience in the industry, her designs are geared toward the multi-tasking woman. Right now her collection can be viewed online and is available in stores such as Fred Segal and Kitson.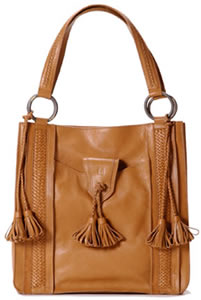 I was sent a handbag to try out and offer you all insight to this new line. Cate sent me the Pandora Tote, which falls under her Monterey collection. The bag offers a slightly western feel, yet the leather is very durable and the bag is over all practical. At times I may get a new bag to try out, and on paper it looks great, but it does not always translate. With Cate's bags, this is not the case. The bag I was sent looks just as it does on paper, only it is better. My laptop fits in the bag perfectly, only peeking out of the top a little bit. While my lap top is heavy (aren't they are?) but this bag's deep dimensions are perfect for your lap top or other work essentials. My tan version is a great everyday color, but this bag is also available in black, espresso, and teal. There is also an east/west version of this bag, which is a shape I typically am drawn to, that is called the Verbena (also part of the Monterey collection).
Check out this new designers collection at Cate Adair online.