Temperley London Electric Hobo. It's cheery and bright and girly, in stark contrast to pretty much anything else that we've seen so far this season, and also in contrast to the weather that's been going on outside my apartment for the past two days (And really? A hurricane? Isn't it a bit late for that?).
I want very badly to like the
But so far, the most that I can say is that I really like parts of it, and that other parts completely confuse me. So let's explore that a bit, after the jump.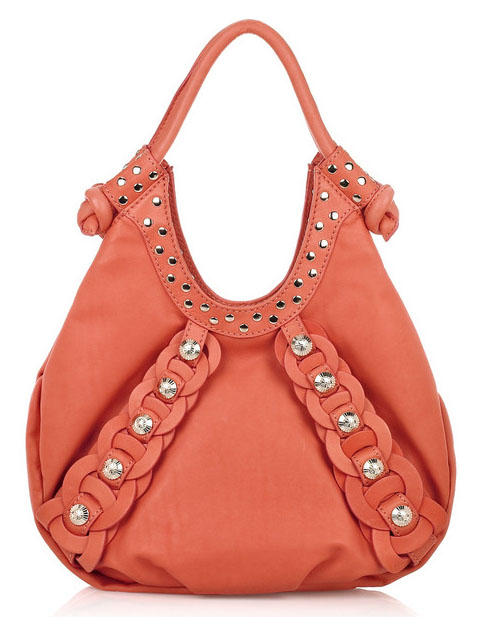 First of all, the body of the bag is great. I've never seen a bag that's Dreamsicle orange, but I kind of like it. The leather rings that are woven into the straps that traverse the exterior of the bag are also unique and fun, and when combined with the ultra-feminine take on studs, they give the bag a great deal of personality.
The problem that jumps out at me is mainly with the handles and attachments. They look a tad…cheap. The rolled, knotted handles don't seem to correspond logically to the clean edges of the visual elements on the rest of the bag, and they look like they might have come from a different purse entirely. Fix those, and it's a fun bag indeed. Buy through Net-a-Porter for $1060.