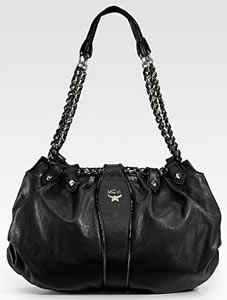 MCM (Mode Creation Munich) is making a comeback. The renowned European luxury brand has taken major strides recently in the accessories market. Our take on it all: Bravo. We are really digging what MCM is doing. Quality, luxury, and craftsmanship goes a long way in a handbag. Best part is the price point for most MCM bags stays on the affordable end of the spectrum.
Take the MCM Notte Large Leather Hobo for example. The leather is exceptional in the soft shape while the double chain-link strap gives an edgy and current touch. What is not to like about this bag? As far as classic black bags go, this is an ideal buy. The inside is lined in suede and there is a zipper and two open pockets. Dimensions are 15″W X 10″H X 5″D.
While I have never seen an MCM bag in person, this week that will change. There is a MCM store in our hotel in NYC that we are planning on stopping by to see the bags in person. Once we get to touch the bags and see the quality for ourselves, we will report back with more information. Buy this MCM hobo via Saks for an affordable $925.