I'm too young to remember when MCM was a big deal the first time around, but I have been assured that it was and I have no reason not to believe it. I've seen those bags, though, and I have a hard time imagining them being widely popular, but, you know, the 80s were a weird time.
I'm thankful that their logo bags haven't returned in the 80s nostalgia wave (a wave that I'm ok with, in general – I just bought another pair of Ray-Ban Wayfarers, after all), but if they keep making bags like the MCM North/South Leather Hobo, I wouldn't mind at all if the brand became a trend all over again.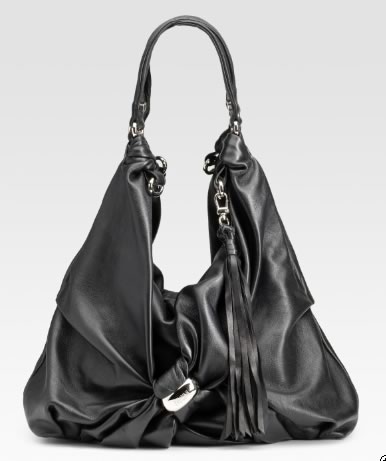 Since this bag is completely empty and not hanging on a shoulder, I think that the uber-slouchy, uber-soft leather would look a bit more tailored when worn. If it does, the bag would be nearly perfect for people that like a casual, easy sensibility to their personal style (or really, just about anyone that like wonderful leather in a neutral shade).
The knotting, tassel, and minimal use of hardware are enough to vary the texture and visual appeal of the bag. If tassels aren't your thing, then it's removable, but I'd recommend leaving it on – it lends a nice vertical line, not to mention a little bit of motion, to this beautiful, modern bag. There's not a note of 80s tiredness anywhere near this one. Buy through Saks for $995.