Every time I see a patent hobo that's supposed to slouch a bit in order to be wearable, I die a little bit inside. Why do designers keep doing this to us? Patent doesn't slouch. That's one of it's innate qualities – it's a structured, polished material for structured, polished bags.
I really like the maybe-tacky (shut up, I like tacky) effect of the burgundy zebra print on the Jimmy Choo Zebra Patent Hobo, but I can't help but imagine that the stiff-looking handle would probably perch itself on my shoulder instead of molding to my arm, just like the body of the bag below it. As much as I try to make myself use bags like that because I enjoy them aesthetically, I just can't do it.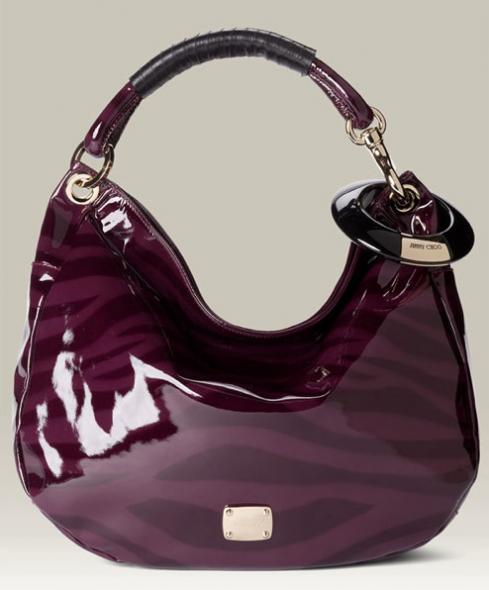 Again, the color is totally to-die-for, and I think that a big, simple bag is the only way to properly show off the variation in the material. I would have preferred, however, that the bag was rendered as a tote – longer handles would take care of the need for the shoulder strap to bend and the body of the bag to sag. I like the shape of the bag as it is, but the combination of the shape and the material seem to be a bad idea. Buy through Nordstrom for $1295.