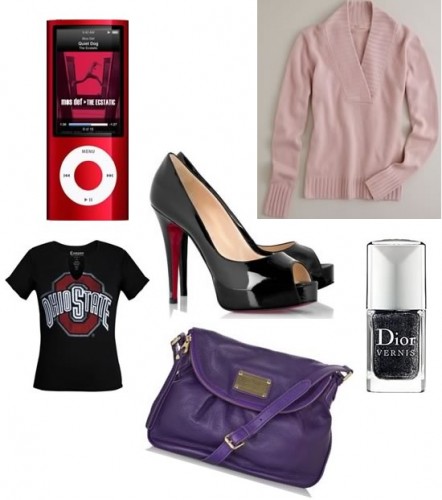 When it comes to Christmas I typically have a few things I'd love to have, but I rarely consider myself one to have a wish list. However, this year, there are a few things that I would absolutely love to have. So, whether any of these things are given to me or I end up getting them for myself, I am pretty sure I am going to make everything on my list mine!
1. Christian Louboutin Hyper Prive 120 Pumps: I have been dying to get a pair of Louboutins for a few years now. Since I need to start my collection, I want a pair like these: classic, timeless, and sexy! Buy through Net-a-Porter for $835.
2. Apple iPod nano: Every morning, before I start my day, I go for a run or a walk. I've had several iPods before, but it is totally time for an upgrade. In fact, I don't just need an upgrade, I need an iPod. I lost the last one I had and now I run without one. Furthermore, a cool new iPod would be great for traveling. Buy through Apple for $149.
3. Marc by Marc Jacobs Natasha Classic Q Shoulder Bag: Earlier this month I was checking out my handbag collection and saw a few areas I would like to beef up a bit. I need a bit more color in my collection and I want something that is as versatile and durable. I can always count on Marc Jacobs and that is why I would love to call this bag mine. Buy through Net-a-Porter for $330.
4. J. Crew Cashmere Ribbed Shawl Popover: It doesn't matter what kind of climate I live in, I love sweaters and I can find a use for them throughout the year. I love this J. Crew Cashmere sweater. Why? Well, hello, it is cashmere. Yet, more than that, pink is a color I like to add to my wardrobe. It is the kind of color that can soften an outfit or add just the right touch of color. Buy through J. Crew for $218.
5. Ohio State T-Shirt: Like Megs and Vlad, I too went to Ohio State. And for any of you who are die hard devotees to your Alma Mater you know that you can never have too many items that broadcast your school. In case there are other fellow Buckeyes out there, you can get this t-shirt through Buckeye Corner for $29.95.
6. Dior Limited Edition Vernis – Black Sequins: I am all about the dark nail polish craze right now. With New Year's Even quickly approaching, I would totally paint my nails with this limited edition black nail polish. Well, not just black, it actually has sparkle in it. Obviously you can't go wrong! Buy through Sephora for $20.
HAPPY HOLIDAYS TO YOU ALL!!!!