Life is a funny thing. Sometimes a life altering experience that can be viewed as negative comes into our lives. But people who are able to turn something bad into good shows their ability to cope and show how truly strong they are. I received an email from Kristy, who started LaNeige Purse, Inc. I have told you all before, I love to hear about new designers. But this email was a little different, read on and you will see why:
My name is Kristy and I'm a purse designer in Tampa, FL. I came across your website and found it exciting. I noticed that you do not have any waist/shoulder purses. The LaNeige collection would be an a wonderful addition to your stylish purses for the active woman of today. LaNeige is French for snow and is the name of my adorable girl Maltese. I have been blessed all my life, having a wonderful childhood on a small ranch in Colorado, and was fortunate to meet the man that taught me what unconditional love is all about. As charmed as all of that sounds, even Cinderella has problems. I was in three serious unavoidable car accidents within the past six years that left my neck and back severely injured. I was unable to carry a typical handbag, so as I recuperated I created a waist purse for myself. Friends, family, and even strangers stopped me everywhere I went to ask me where I bought it, so I started the LaNeige waist purse. It has now expanded to cosmetic purses, backpacks, summer bags, and larger waist purses.
Kristy has done something unbelievable. She has not only coped and moved on with her life-altering experiences, but she has also used them to help other people. I applaud her. Like Kristy I am sure many women out there have problems that may make it hard to carry a 'typical' bag around (heck, I'm sure this has happened to all of you where your purse is so full and heavy you being to slouch and keep switching shoulders to try to alleviate the pain). These bags are made to be worn and to sustain life's imperfect conditions and moments (spills, dirt, use, etc). Each bag proves to be practical with its design made of interwoven nylon webbing. Fortunately for our messy lifestyles, the specially treated nylon can survive any drips or spills since the hand crafted weave is incredibly durable, repels liquids, weather proof and also stain resistant. Those are major pluses when looking for a sturdy and practical bag! Now I want to talk about three of my favorite styles.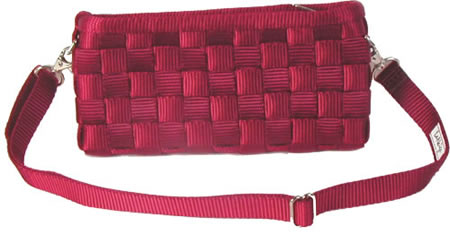 The LaNeige Purse Red Princess is a small waist bag which would come in handy when you need your hands. The Red Princess is designed to be worn around the waist or over the shoulder, which makes life easier having both hands accessible. The dimensions are 3/4″ webbing with length of 8 inches and a height of 4 inches. The Princess style bag is available in a variety of colors and can be purchased through LaNeige Purses for $69.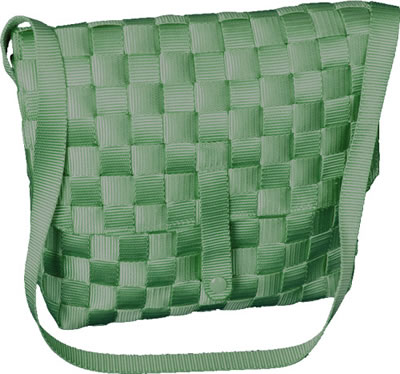 Next, I have chosen the LaNeige Purse Green Baroness. The Baroness is a line of messenger-style shoulder bags with inside pockets for your goods. The bag has 1″ webbing and it measures a length of 12 inches and a height of 11½ inches. This bag could easily be used as a school bag or everyday bag that needs a bit of use and would help even out the weight of the bag. This line of products also features a variety of colors and is priced at $159 via LaNeige Purse.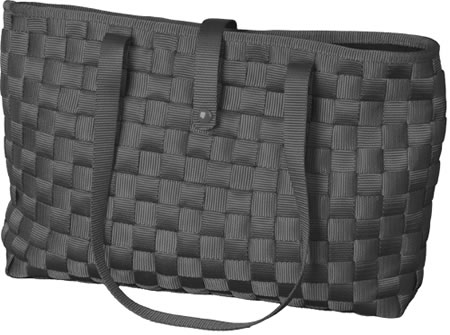 Lastly, and my favorite, is the LaNeige Purse Black Empress. The Empress line is the always needed tote bags. The bag implements a convenient side clip for keys and accessible pockets for everything else. It's always nice to have enough pockets to carry all your goodies. The Empress bags have 1″ webbing with length of 18 inches and a height of 13 inches. These bags are available for $175 through LaNeige Purse.
One more important thing I want to mention. If you love the weaving but would like to customize your own bag, you can! LaNeige has made it accessible to create your own custom bag with up to 3 colors of your choice.