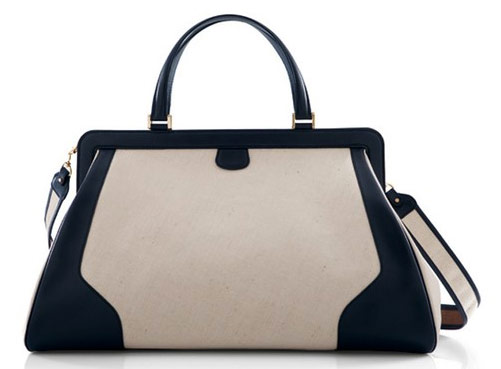 In the past, Italian luxury brand Valextra might have seemed a bit boring to many shoppers (and it probably still does to some). The company's emphasis on fine leathers and extremely simple lines has always appealed to a very specific customer, particularly in light of the brand's sometimes astonishingly high prices. With the fashion world's newfound embrace of minimalism (at least for now), though, Valextra's contributions to the handbag conversation seem more important than ever, which is why we bring you a preview of Valextra Spring 2011.
Some of these bags will look familiar, particularly the unchanged iterations of the popular Babila tote, but the unfamiliar pieces like the satchel at top and its blue jean leather counterpart stand out above and beyond their collection counterparts. If you've never seen Valextra's work in person, I highly recommend doing so – the brand's precision work is pristine, and for a structured bag, it's hard to do much better than one of Valextra's products. Skip the Babila, go for the satchel.
Photos via Women's Wear Daily.