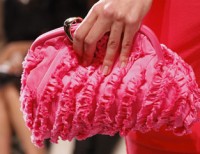 The next stop in our seemingly never-ending Fashion Week coverage is a look at Nina Ricci's Spring 2011 runway bags, which win the second-place trophy (behind Loewe) for Spring 2011's happiest handbags. From ruffled, applique-flowered clutches to big, soft day bags, spring has sprung all over Nina Ricci.
The bright pink bags are perhaps not the perfect shade for conveying a high-end attitude, but the larger pieces are all made of such obviously soft and supple leather that it hardly matters. Materials can speak volumes on behalf of a brand, and the leather that Nina Ricci chose speaks rather loudly.
Photos via Style.com.