Ciao bella, come stai? So, I may have not retained a great deal of the Italian that I took in college, and I certainly didn't learn anymore last week since I, sadly, I did not go to Milan fashion week. I do, however, have the Internet, which means that my lack of Italian (and lack of Italian vacation) is NOT going to stop me from telling you guys about Milan Fashion Week, starting with Gucci.
I know that many have criticized the post-Tom Ford era at the brand as less exciting and less innovative, but I've got a soft spot in my heart for Frida Giannini's (pictured left) reign – I think her subdued sex appeal and color choice is often brilliant, even if it's not as aggressive. The clothes aren't overly high-concept, but they are exceedingly wearable and have a great deal of influence on what ends up in the stores that you and I frequent. So what did Frida give us? Here's what I noticed…

Lots of blue and purple – I'd say at least two thirds of the looks incorporated one of these colors, and some both. As different as the two collections are, color choices reminded me of the Marc Jacobs show from a few weeks ago at times (although no yellow). These colors were paired with lots of light neutrals – beige, light grey, white – in skinny pantsuits, flowing dresses, and exotic patterns galore.

Everything that wasn't blue was military or safari inspired – it was hard to tell which one, although I'm hoping safari, for the sake of collection cohesion. Many of the patterns appeared to be safari-inspired (birds, palm fronds, snakeskin, etc), so I'll stick with that theory. This portion of the show is where Gucci loses me a bit – I don't like cargo pants for $29 at Old Navy, and I certainly don't like them for many times that at Gucci. The prints are nice, though, but aren't they very Resort-y for a Spring RTW collection?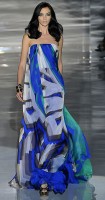 Flowy, flowy, flowy dresses, you have stolen my heart. Sure, on anyone that's not 5'10 and 115 lbs, they may verge on muumuu, but if they are, then they are the most beautiful muumuus I have ever laid eyes upon. The fabric is light, airy, and the colors of a beautiful coastline. In a perfect world, I would wear one of these all summer. Everywhere. To the grocery store. To get my oil changed. I'm not kidding.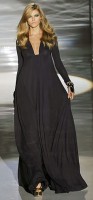 But my favorite look of the show was one that didn't quite fit the collection – a long-sleeved, maxi-length, jet-black stunner of a flowing jersey dress. I'm not sure exactly how this one counts as a spring look because it looks like fall and winter to me, but whatever, it's still gorgeous. This is another dress I'd wear everywhere – even if the cleavage is kind of…cleavagefull. That's how I roll. It's incredibly simple, so I'm not sure why I love it so completely, but I would LOVE to have this in my closet.
Overall, I think the collection was a success – most of the pieces were incredibly wearable, from the little silk patterned dresses to the slim pants to the beachy patterns. I'd rather not think about the safari pieces, but there were so many beautiful things to be seen that I think we can collectively forgive Frida that sin, can't we?
images via Style
P.S. Please consider supporting our small, bag-loving team by clicking our links before shopping or checking out at your favorite online retailers like Amazon, Neiman Marcus, Nordstrom, or any of the listed partners on our shop page. We truly appreciate your support!