I don't know what a "snaffle" is, but if the Gucci Snaffle Bit Small Leather Shoulder Bag is any indication, I like it. This shoulder bag capitalizes on the tropical embellishments from Gucci's Spring 2011 runway show and adds a shot of bright color to create one of the season's best casual bags yet
It's still early, of course, so that designation may change, but somehow I doubt it. Gucci often tends to do its own thing regardless of accessories trends, and this design, with all of its details and stitching and stuff, feels refreshingly different from the sleek bags other lines are offering.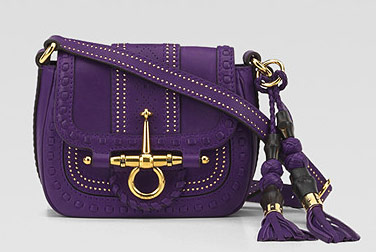 Not only is the bag's basic look fun for the coming warm weather, but I just can't resist this bright, vibrant shade of purple. It's a seasonless bright that goes with nearly anything in your closet (Trust me, I'm a big carrier of purple bags.) and doesn't show wear or dirt, and it looks particularly good against the whites and dove greys that spring always offers. This little bag packs a lot of design wallop in a small size, making it perfect for weekend wear. If you're not so sure about the purple, the purse also comes in a very Hermes-y orange. If only the price were a little more reasonable; it seems high for a regular leather bag that's only seven inches wide. Buy through Saks for $1880.