We paired some of Gucci's finest accessories to examine how the hardware, embellishments and fine materials make it one of the most exciting brands in the world
In partnership with Gucci.
The devil is in the details. That well-worn cliche applies to a lot of things, but it's especially appropriate in luxury fashion: the way a designer chooses to finish his or her pieces says everything about the quality, craftsmanship and care with which they are envisioned and rendered.
At Alessandro Michele's Gucci, the details are abundant and dazzling, spinning out in seemingly endless directions with hardware, embroidery, beading, exotic inlays, and beyond. One of the best things about Gucci right now, though, is that the house doesn't just save those flourishes for its most breathtaking evening wear or highest heels; instead, through Gucci accessories, those special details can be a part of your everyday life.
Taking an everyday-useful object and making it feel like a fantasy piece is a design feat that requires delicate balance and a clever eye, which are two things Michele has brought to Gucci in spades during his tenure at the brand. These skills are especially apparent in the brand's handbags and timepieces, two product categories that go everywhere with their owners and must carefully close the fashion-function divide. Not only do these beautifully detailed pieces make a stunning wardrobe statement on their own, but they also look great in coordinating or complimentary pairs. Recently, Gucci sent us some of our favorite pieces to take for a test drive and share with you.
First on our must list is the Gucci Marmont Small Top Handle Bag, which we paired with the Gucci Le Marché Des Merveilles 38mm Watch, and the two combine to strike a sporty, casual tone without sacrificing any luxury. The Marmont line is a new classic for Gucci, and its bags have been snapped up by shoppers and celebrities worldwide since it debuted several seasons ago. It's easy to see why: the leather versions of the bags are just simple enough to be everyday carries, but the inventive zigzag quilting and bold logo closure provide the kind of assertive detailing the brand has become known for. Meanwhile, the Gucci Le Marché Des Merveilles 38mm Watch employs the longtime Gucci signatures of the green-and-red Web and bee embroidery in unexpected ways to create a modern look with strong heritage ties.
The theme of animal detailing continues in the Gucci Osiride Small GG Shoulder Bag, which has as its focal point a stunning, Swarovski-eyed, enamel-detailed tiger head closure, framed with a brass plaque and studding. Out from there flow three different types of paneling to cover the body of the bag: black leather, glossy brown snakeskin and the brand's signature GG Supreme logo canvas. For all of those disparate elements, the bag feels harmonious, maybe even trim. They work together to form a sophisticated whole, which we paired with the mechanical, steampunk-esque Gucci Vintage Web 24x40mm Watch. The watch's Ronda quartz movement is encased in transparent grey Plexiglas, which allows the wearer to see the delicate mechanics of keeping time. It's not too delicate, though: the petite watch is banded with gold-tone studs.
If your predilection is toward the aesthetically ornate, Gucci can, of course, satisfy that impulse any day of the week. The Gucci Ophidia Shoulder Bag, which is new for Cruise 2018, takes a simple, useful shape in luxe suede and imbues it with exoticism with an elaborate dragon motif, expertly embroidered in a wash of color by Italian artisans.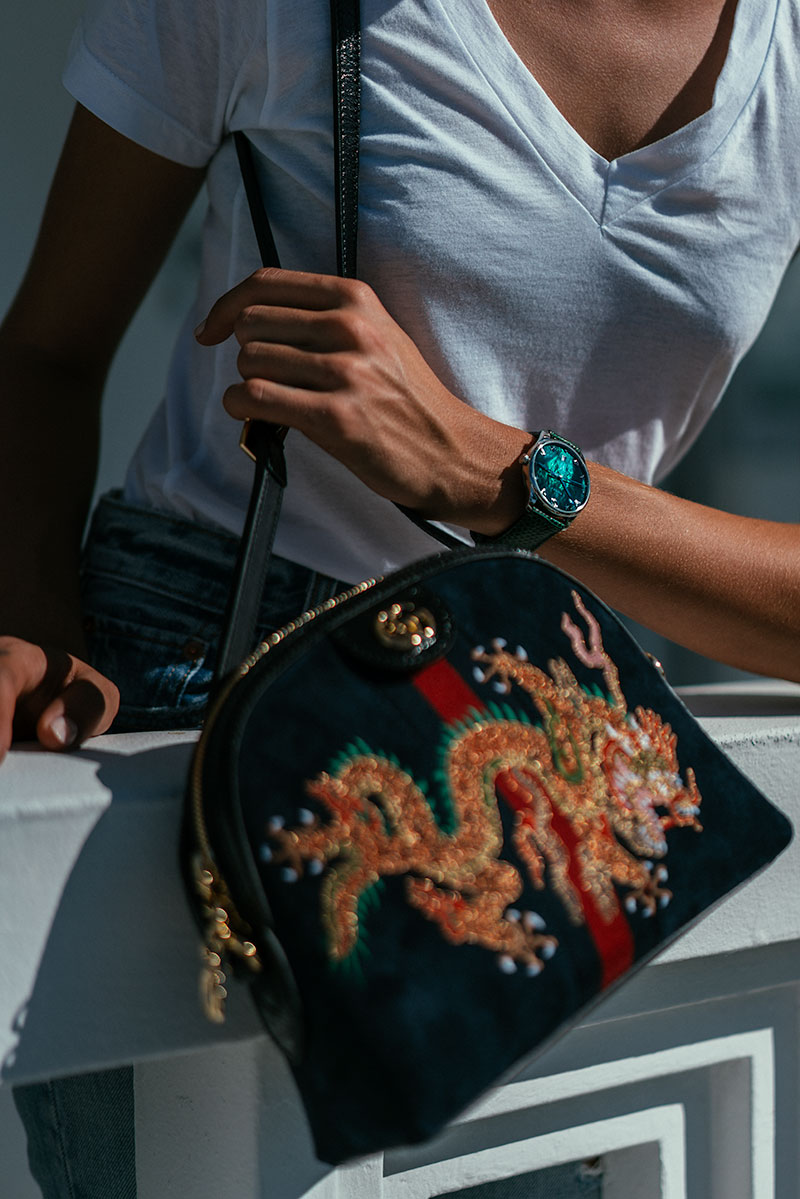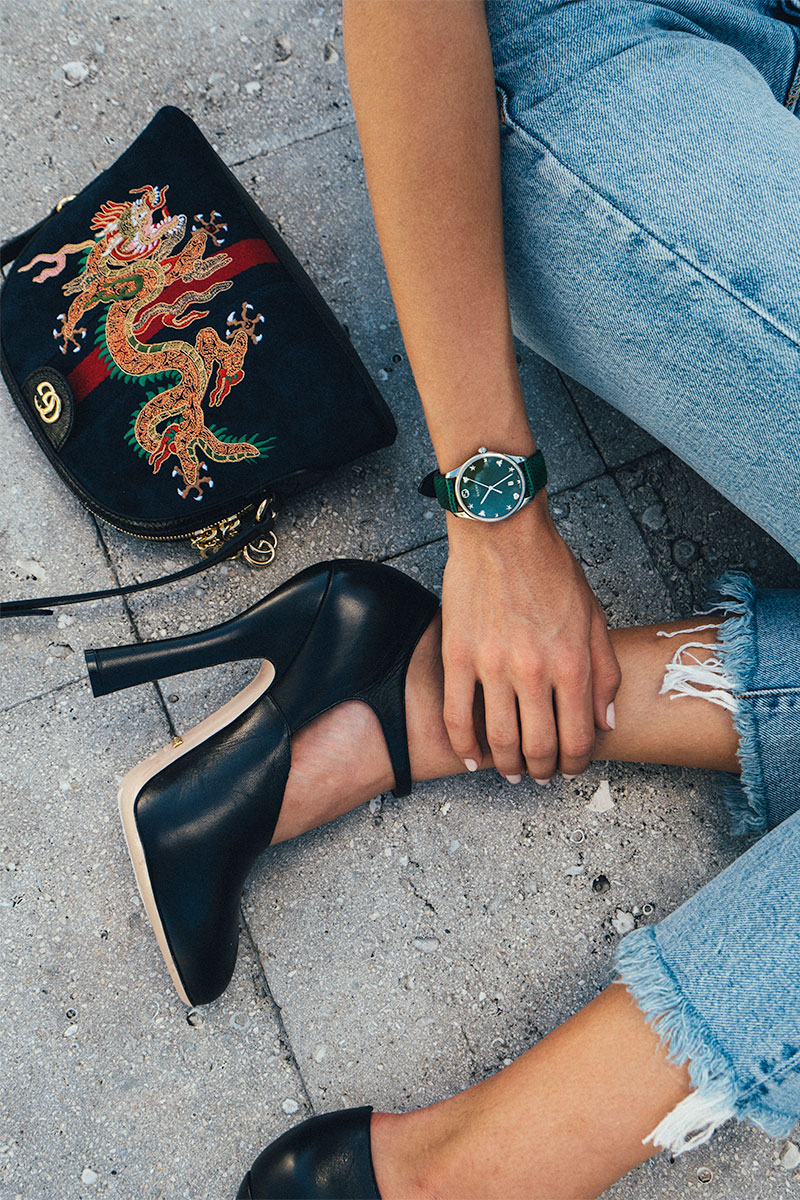 To bring out the intense green shade in the patch, we paired the deceptively simple bag with the Gucci G-Timeless 36mm Watch, banded in emerald lizard with a tonal mother of pearl face, dotted with Gucci icons. The color is deep and rich, but its depth makes it surprisingly wearable any time you want a pop of color. Here we've paired it with jeans and a tee, but it could just as easily accent a party dress, as could the bag.
Much of what's impressive about Alessandro Michele's work is how the designer switches gears so effortlessly, while somehow still making far-ranging aesthetic ideas all seem so unmistakably Gucci. One second things are punk or girlish, and the next we've switched to high-octane, primary-color preppiness with the Gucci Sylvie Mini Chain Bag, this one in stark white trimmed with red and navy Webbing and a gleaming gold chain. The effect is crisp and optimistic, with a dose of the retro-modernity that has become a Gucci signature under Michele. We paired it with the Gucci G-Frame 14x25mm Watch, which has a matching Sylvie face and triple-wrapped Web band, which makes a bold statement without being bulky.
This is Gucci at its most fresh-faced, and you can finish it off like we did, with some of the brand's sharp suiting.
When Alessandro Michele made his runway debut as Gucci's creative director, he sent only one bag down the runway: the Dionysus. It set the tone for the detailed, structured bags that would come after it, as well as the brand's renewed embrace of its iconic monogram fabric and signature hardware. The Gucci Dionysus Bag continues to evolve and be part of every new collection for the brand, of course, and the signature tiger head closure adorn a wide array of Gucci's clothing, shoes and accessories beyond just the signature purse. We're particularly partial to this petite, ultra-femme version of the bag in bright pink, and it pairs perfectly with the Dionysus hardware-accented watch (available on Gucci.com soon), which has the feel of ultra-glam jewelry.