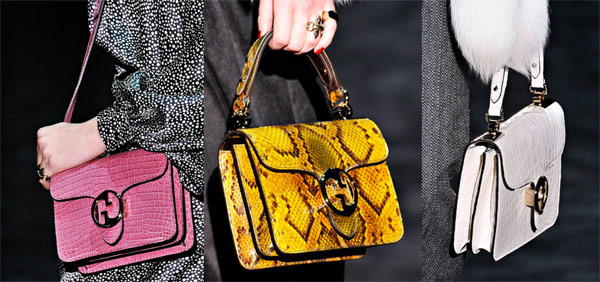 If Gucci Fall 2011 is any indication of what we'll see from the rest of Milan Fashion Week, then I think my credit card is going to be begging for mercy when fall pre-orders start. The ready-to-wear had an easy, colorful, jet-set hippie feel to it with lavishly draped chiffon and vibrant furs, and the handbags were just as luxurious. Exotics outnumbered regular leathers and some models carried multiple bags, indicating Gucci's emphasis on accessories for the season to come.
What was perhaps even more interesting than the colors or materials were the shapes that they took. Gucci is the latest brand to embrace the so-called "lady scale" bag, and most of the runway options were sized for essentials only. If you're a woman who needs to carry her whole life in her handbag, though, fret not; Gucci showed several larger New Jackie shoulder bags as well.
Photos via Vogue.com.