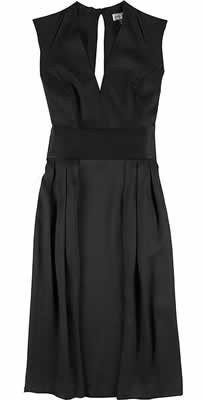 … if I were with my Valentine :-(
The middle of Ohio is not known for its snow. 2″ and the people don't know what to do, how to drive, how to plow. But 8″ plus layers of ice means Columbus is closed down. Go figure my flight back was today. So here I am in beautiful south Florida, and there my Valentine is, in closed down Columbus. Yet another Valentine's Day alone. For those of you who deem this day "Singles Awareness Day", or are also wanting to throw pebbles and call names at the weather, or are apart from your loved one, or have not met your loved one, hang in there- I am with you. Instead of actually wearing my perfect outfit, I might as well plan what my perfect outfit would be if I *were* with my Valentine today.
First I'd opt for a sexy black dress. Every girl needs a sexy black dress and on what better day than Valentine's Day to really impress the guy you are with. A perfectly elegant and sassy number is the Issa Satin V-Neck Dress. This sleeveless knee length dress is made with black satin, sports a V neck to show a little somethin' somethin', and a subtle yet sexy keyhole opening on the back. This would perfectly show off my legs, fit in all the right places, and hopefully leave the Mr very pleased too (not that I try to keep him happy ever anyhow ;-)) Via Net-A-Porter for $400.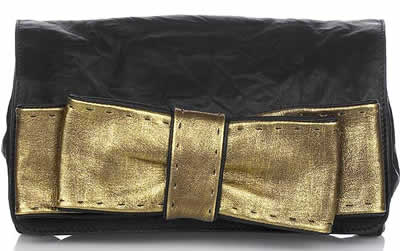 And for a clutch, the very girly side of me really likes bow detailing hence I am loving the Chloe Gold Bow Clutch. Fairly simple and perfectly detailed the clutch is made with black crinkled leather and has a large gold bow on the front. One of my favorite details is the hand slot where you can slide your hand to carry your bag. There is also the option of a leather strap. Love it. Through Net-A-Porter for $900.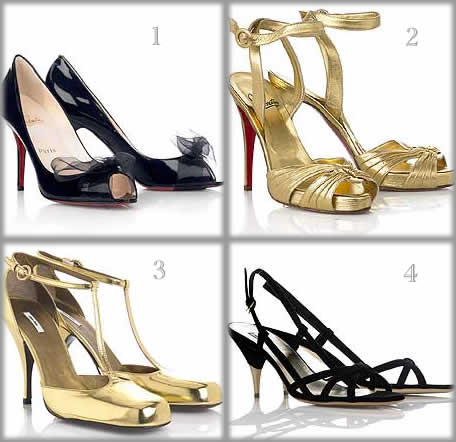 The shoe department, I am just not sure. Gold, black, sandals, closed? Help me pick the perfect shoes for my *if I were with my Valentine* outfit! Behind door number 1, Christian Louboutin Moon Bow Pumps ($650). Door number 2 holds the Christian Louboutin Tenue Leather Sandals ($815). Shoes number 3 are the Miu Miu Leather T-Bar Shoes ($370). Lastly, number 4 are the sassy Miu Miu Strappy Suede Sandals ($395).
Vote on the forum for shoe 1, 2, 3, or 4 for this outfit, or say other and suggest something good!
And if you are like me, spending your Valentine's Day alone for whatever reason, go ahead and post the outfit you would wear *if you had a Valentine*!