In the last few seasons, few brands have honed in so sharply and specifically on their vision as Fendi has. Under the design direction of Silvia Venturini Fendi and Kim Jones, the Italian House has continued to merge classic House codes with modernism. Season after season, the brand continues to produce handbag hit after handbag hit, leaving fans clamoring to get their hands on the latest and greatest from Fendi. For summer 2022, the brand has introduced a summer capsule collection that includes new season-ready iterations of some of its most beloved bags, and Fendi lovers won't want to miss it.
Fendi Favorites, Reimagined
Fan-favorite bags, both new and old, appear refreshed for summer in the new summer capsule, including Kim Jones' debut bag for Fendi, the Fendi First. The unique shape and unmistakable design took the handbag world by storm last year, and the hype continues this season in a stunning palette of lilac and sand. This beige raffia macrame version is really cool. Crafted from hand-woven natural raffia with gold-tone finishes, it's a show-stopping version of one of the handbag world's most-wanted bags at the moment. And for something incredibly unique, there are two stunning exotic versions; one in python and one in crocodile. The Fendi First remains a must-have, as its pouch shape is on-trend but still offers that quintessential Fendi twist.
Other House classics like the Sunshine Shopper, Baguette and Mon Tresor are also given seasonal makeovers in varying iterations, from lilac leather and laser-cut leather to black and beige raffia. There are a myriad of beloved shapes reimagined for spring, but if you're craving newness, there's also the new Fendi Mini Cookie Bag.
The New Fendi Cookie Bag, Fresh for Summer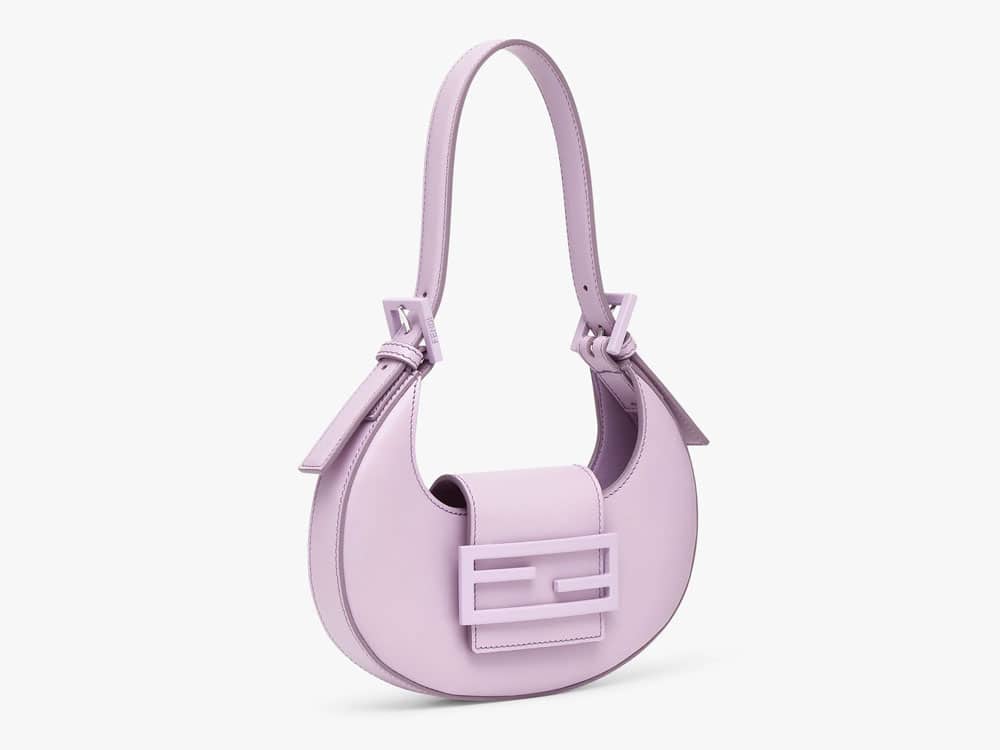 Curiously tiny but undeniably cute, the Fendi Cookie Bag is mouthwateringly sweet this season in lilac leather (though there's also a fun raffia version). The Cookie Bag features a small half-moon-shaped silhouette finished with Fendi's House staple FF Baguette hardware. The Mini Cookie is finished with tone-on-tone, enameled hardware with a matte technique for the summer capsule. It's meant to be carried by hand, but the small strap is adjustable with just enough room to allow for over-the-shoulder wear.
Throughout the capsule, House staples are revived and freshly defined in new textures and colorways that feel distinct to the season. Explore the Mini Cookie bag and more from the Summer Capsule at Fendi.com.